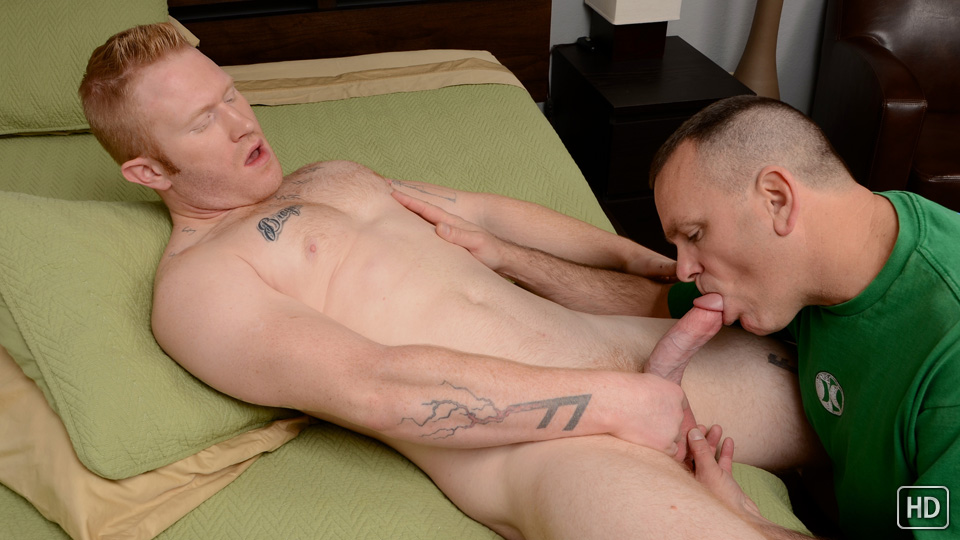 Watch the full scene:
Join Now!
I was hoping Perry would come knocking again. Since his favorite "flavor" of porn is POV blowjobs, I had a feeling he'd warm up to the idea of getting his cock sucked if the money sounded good.
Right off the bat, Perry's cock was ready to go. It's a thick one which, luckily, has that downward curve, so it slipped right down my throat.
The thing with guys who like BJ videos (like Perry) is that they tend to know just how they like their cocks sucked. Perry liked the tip worked and wasn't shy about making that obvious. As my tongue worked its way to the end of his dick, Perry gasped, "Oh, yeah. Right there!"
I wasn't sure what kind of reaction I'd get, but it would be a shame to let an ass like his not get rimmed. I pushed Perry's legs back and dove in with my tongue. Perry responded by rolling his head back and letting out a deep sigh of appreciation.
It's when he stood up that Perry really took control. He grabbed the back of my head and started face fucking me, even reaching down at one point to grab my hand and wrap it around his shaft while I was swallowing his cock. I'm telling ya', Perry seemed to know exactly what he wanted in a BJ.
Knowing now what it was going to take to make him cum, it was time to get this str8 boy off. It took some work, but the build up was priceless. With a hand working the shaft while sucking the tip of his cock, Perry let out a loud moan and shot a thick rope of cum in one of the most intense cumshots I've seen in a while.
Tags: Oral, Hung, Redhead/Ginger, Muscular