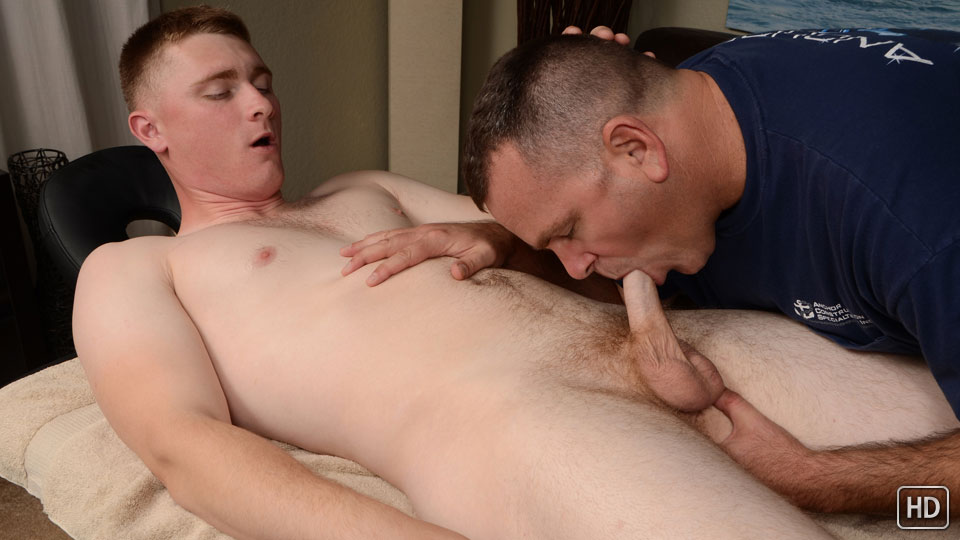 Watch the full scene:
Join Now!
Dakota was getting out of the Marine Corps shortly after the shoot with his buddy, Preston (when they jerked each other off). Just before he was heading off to the wild blue yonder, I asked him about doing a massage scene. He was all for it, since he'd gotten… ohhh, just a few while stationed overseas.
"In Japan I did a lot. Probably like 10 or 15," he said with a hint of humility. "It was a weekend thing."
Of course, those were all with girls. But getting one from a guy for the first time didn't seem to phase him much, saying he could just close his eyes and "go to Happy Land."
Wherever his mind was, it was obviously a happy place for me. As my hands moved across Dakota's body and toward his delicious bubble butt, it was about all I could do resist slipping a finger in his hole (...so I did). And if a finger wasn't enough, getting a little taste of his virgin ass couldn't be resisted at all!
Dakota flipped over for some attention to his front side. Rubbing down his chest and slowly grazing his cock made it spring to full mast. And if resisting his ass was difficult, there was no way I could let his stiff dick get by without wrapping my lips around it.
Dakota's balls practically crawled up inside him and his entire body clenched as I worked him up to cumming. In a final gasp, Dakota let me know he was getting close and within seconds, his thick load was shooting all over his pubes.
Tags: Oral, Redhead/Ginger, Massage