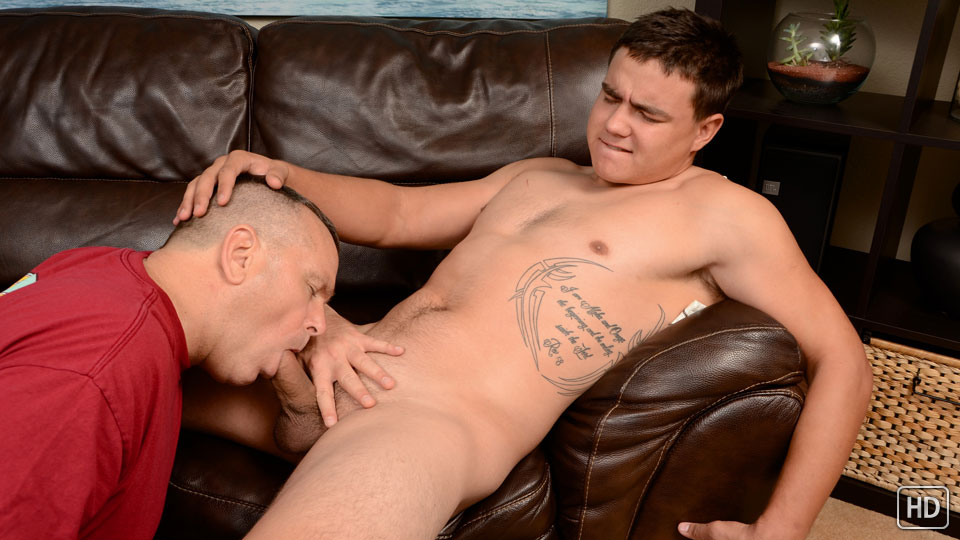 Watch the full scene:
Join Now!
If getting Yuri on my massage table last time took some coaxing, I knew getting him to take the next step for his first gay hummer was going to be considerable work and take a stack of cash. But here we are! And I think it was worth every penny and every bit of effort.
Probably needless to say, Yuri was going to be nervous, so it took him a minute to get the groove going. I quickly found that deep-throating his thick uncut cock was going to do the trick. He gasped aloud, squeezed his eyes shut and rocked his head back in ecstasy as his dick swelled up in the back of my mouth.
After his massage video he found out that he liked getting his ass played with. Yuri bent over the side of the couch and I buried my tongue in his hole. The expressions on his face a priceless. (Kind of made me wonder if he might be ready to take a further step down the gay porn road.)
After Yuri tested the limits of my gag reflex some more, it was time to get this horny Marine off. He had told me that it's hard for him to cum from BJ's, but I was ready to take on the challenge. It took some effort to be sure. Going between using my hand and mouth, Yuri let out a gasp as thick globs of cum erupted from his cock, splattering onto the couch.