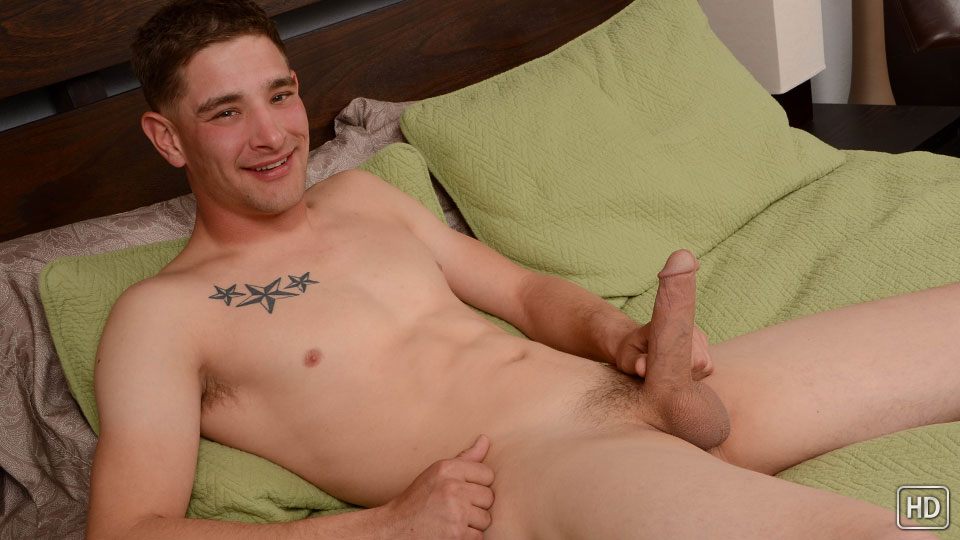 Watch the full scene:
Join Now!
Chase posed for some photos done by a friend of mine and when the subject came up about getting naked on video, he was all about it. Every weekend, Chase has "naked day" with his girlfriend, so the idea of making money to strip off his clothes was kind of a no-brainer.
"I mean, I'm getting paid to jerk off," he laughed. "What's not to like?"
I couldn't agree with him more. The thing is, his girlfriend wasn't fully on board, or probably even fully aware, about him doing the shoot, so shhhh.
When Chase stripped down, I was impressed by the thick cock he was sporting. It was already standing at half-mast; he was raring to get started, and definitely knew how to have some fun while showing off.
"You like that?" he asked about his hard dick, blowing a kiss at the camera.
Between a couple comical moments of flirting with the camera, Chase was all about putting on a good show. As well as leaving pre-cum all over the bedspread-- he's a bit of a leaker.
When cum time came, even Chase was surprised at the distance he shot, landing dabs clear up his chest and covering his stomach and hand. He didn't hesitate a second when I asked him to lick it off.
"Wow," he said. "My girlfriend lied to me. It tastes great."
Tags: Hung