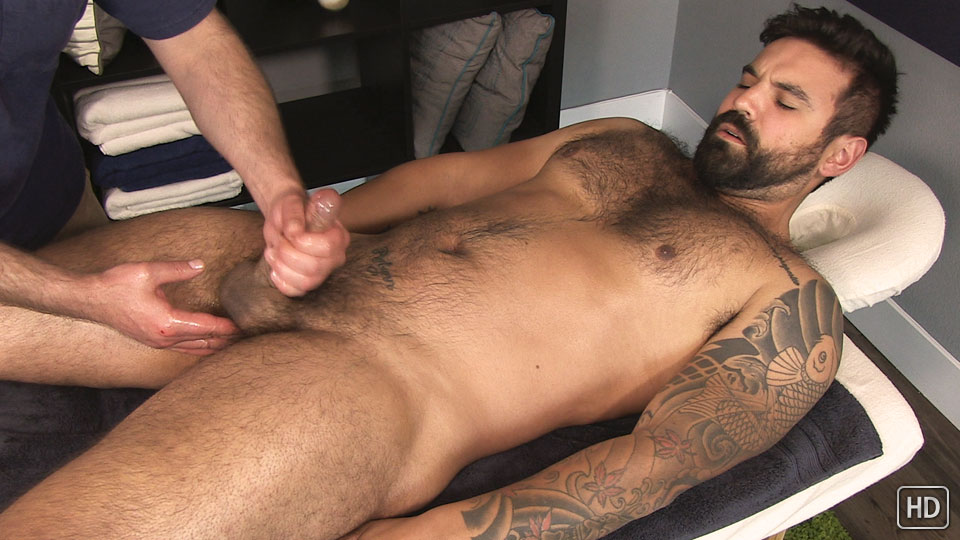 Watch the full scene:
Join Now!
If you remember from his solo shoot, Freddy admitted that he was pretty nervous about his first time doing porn. Those nerves must have translated to just the adrenalin rush he was hoping for because he got in touch the very next day asking about what he could do next.
When I mentioned the massage shoot, he took a few weeks to think it over, though. As open-minded as he is, he mostly seemed hesitant about being "found out" about doing anything with a guy.
Not that Freddy hadn't had his share of happy-endings before; he'd had several, in fact. All from females, though. Eventually, he decided that getting paid for one (rather than paying for it) was too good to pass up. That and he figured, compared to the girls who've done them, a guy would probably be better at it.
Freddy's thick, furry legs and ass were both something I couldn't wait to get my hands on. Not sure how he'd respond to having his hole rubbed, I took it slow. When the head of his cock emerged from behind his foreskin, though, things looked like they were all a "go".
I've gotten a handful of emails from members wanting to see the guys go from soft-to-hard, so I left in a couple of parts where Freddy needed to get ramped up to a boner between the camera angle changes. That turned out to make him even hornier, getting edged over and over again. And when we built up to the cumshot it paid off. Freddy's body clenched up and he moaned loudly as he got a well-deserved release.
Tags: Uncut, Hairy, Muscular, Stocky/Husky, Massage