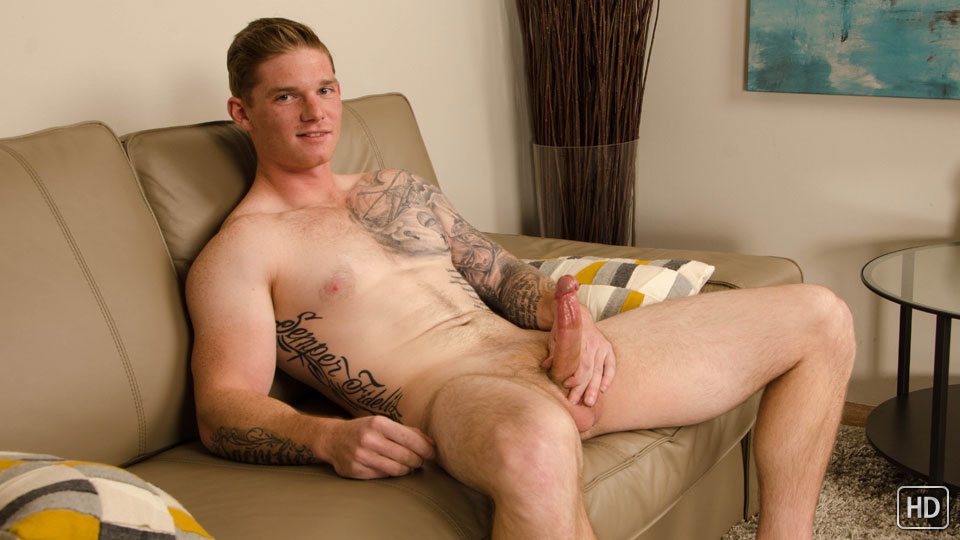 Watch the full scene:
Join Now!
Doug was recently released from the Marine Corps, moved to San Diego, and thought he give porn a try. It was kind of whim, he explained, but said he was "stoked and excited" about doing his first shoot. I'd say my enthusiasm was at least matched with his; I do love me some gingers.
Doug reminded me of someone who was straight out of a Norman Rockwell painting, except for the tattoos, probably. He's got a hell of a body and looked like he would have been a total jock growing up. Surprisingly, he described himself as a chubby kid who decided to start hitting the gym late in high school.
The stories I hear from the military guys are always umm... "interesting." Doug had a couple to share. One being what they called The 15-Hour Challenge, where the guys in his shop would compete to see who had the biggest cumshot in order to go home early. Pure Marine shenanigans.
"It's a little difficult when we get a female working in the shop, though." He added, jokingly, "Aw, the fun's gotta stop. We can't, like, whip out our balls or do anything crazy any more."
He certainly was not shy about showing off his stuff on camera. But why would he be? He's rocking a hefty 7-incher between his thick legs. And when he bent over to show off his ass, it was a challenge to hold the camera steady. Nice n' meaty cheeks.
Doug warned me that he might hit himself in the face if he pointed up his chest for the cumshot. So, of course, I had him point up his chest for the cumshot! He'd been saving up for a couple days since we first talked on the phone and was practically bursting at the seams ready to blow his load. I had barely given him the thumbs up for the grand finale and he was shooting (alas, missing his face) streams of cum off the side of the couch, up his chest, and all over his stomach.
Tags: Big Cumshot, Redhead/Ginger, Muscular