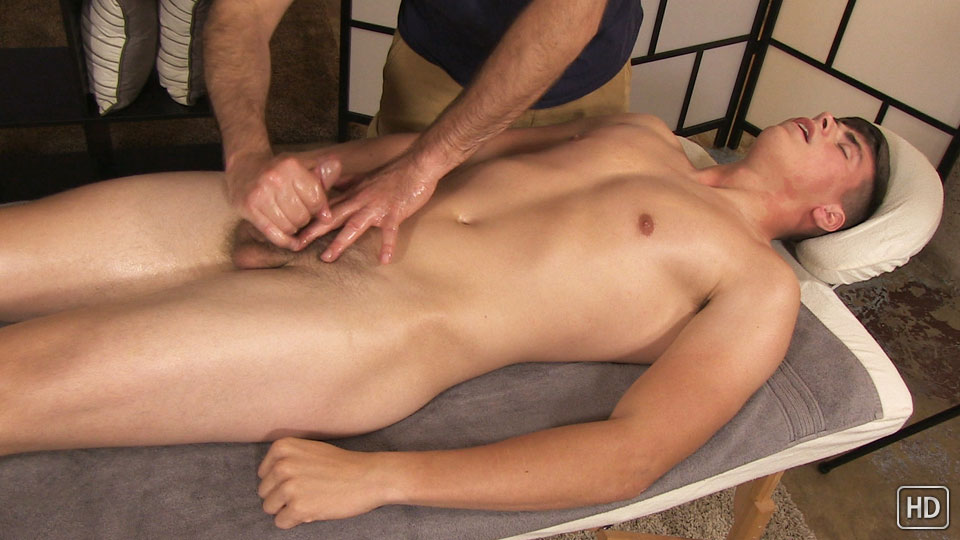 Watch the full scene:
Join Now!
When Ricky was over last time, after his solo shoot, I'd asked him about coming back for a massage. He wasn't too sure about it and said he'd give it some thought. A couple weeks went by before I got a text from him, asking if the offer was still there. Of course it was!
Ricky showed up with a bit of a surprising story. I'd asked if he had gotten a happy-ending before and it turned out that he had just the week before... from a transgender girl who'd been less-than-upfront about her gender identity. Ricky rolled with the situation, though, and crossed a few new boundaries. After that experience, he figured getting a rub down from a guy wouldn't be that much of a mental leap. Hey -- whatever works.
He'd started preparing for the shoot a couple days earlier by edging himself and "blue-balling" with a couple girls.
"Yeah, I was actually edging on the drive over here!" he added.
He must have been horny because no sooner had my hands started rubbing down Ricky's back than his cock was throbbing from between his legs while lying face down on the table. Once he rolled over, he softly moaned while I teased his boner, giving it a few strokes between massaging his smooth, lean body.
One thing I learned last time was that Ricky's face and neck get flushed red when he's getting close to cumming. Once I saw that telltale sign, I ramped up the pace of stroking him, working the head the way he likes it, until Ricky gasped and writhed on the massage table while his thick load of cum covered my hand.
Tags: Massage