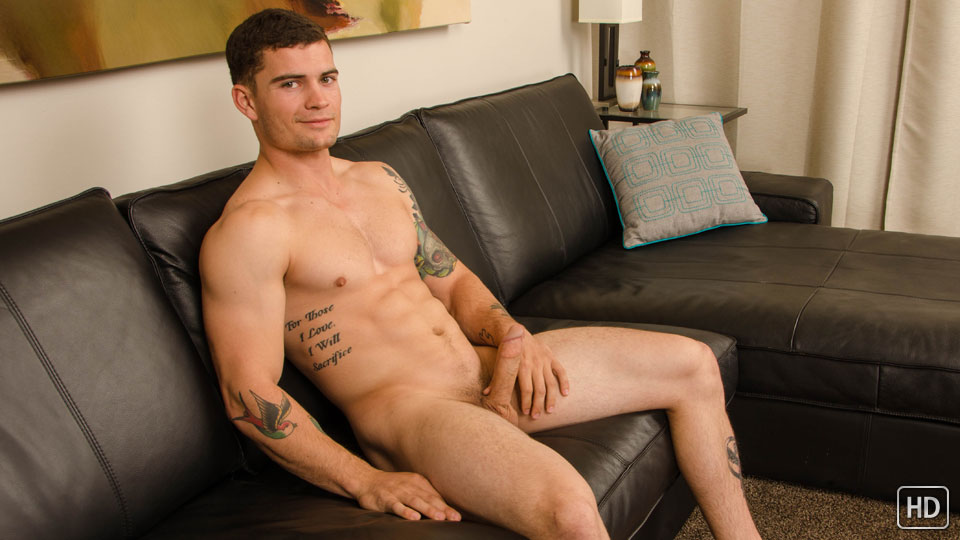 Watch the full scene:
Join Now!
Curtis is a 22 y/o str8 guy who was pretty fired up about getting into porn to make some extra cash. He showed up to the studio a 1/2 hour early; before I'd even gotten there! Nevertheless, it was a nice treat having this handsome beefcake waiting at the door -- a little eye-candy for the neighbors, I'm sure.
Aside from his regular job (one guess as to what that is), Curtis also coaches and competes in CrossFit. He's always been an athletic guy, playing football and wrestling, but swears that it's gotten him in the best shape of his life. When he first peeled his shirt off, I nearly dropped the camera. The dude is jacked.
Curtis hadn't told any of his buddies about shedding his clothes on camera. He actually did another fetish shoot before this one where he got paddled ("That shit hurt!"). His friends got a little suspicious, seeing the cash he had and immediately started joking about how he's doing porn now. Well, guess what?
This was, however, his first time jerking his cock on camera. Understandably comfortable with his body, the lights and everything can be intimidating. Curtis started off a little "stiff," and his eyes were glued to the porn playing in the background. But as things moved on, his intensity was growing, letting out quiet gasps and stroking with the goal in mind.
Curtis normally masturbates at least once a day, but was determined to save up for two days before his debut. The build-up to his climax was so hot that I left it a little extra-long. Curtis pounded on his cock to the point I thought he might break it off, right before dumping a nice, thick load onto his rock hard abs.
Tags: Muscular