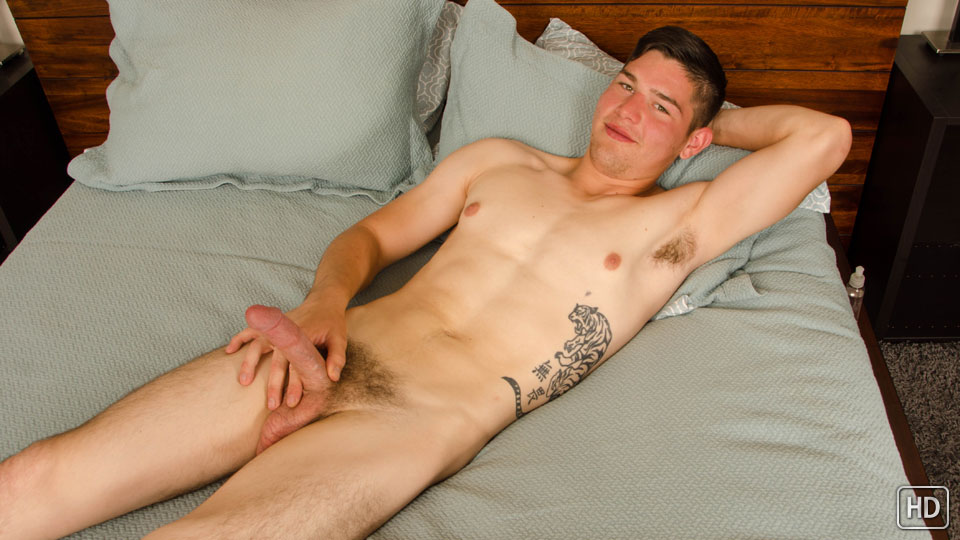 Watch the full scene:
Join Now!
Luis moved to San Diego a couple months ago for a change of scenery. Finding a full-time job had been a bit more of challenge than he realized it'd be, so he started picking up gigs to help pay the bills: construction and handyman work mostly, but occasionally doing some "mainstream" modeling in sports gear and fashion.
He'd thought about doing porn for a while, so when the opportunity came up to model with less clothes on, he figured he'd give it a shot. He didn't let any of his friends know about it and said that they would probably be surprised to hear he'd made the leap, being seen as a reserved and shy guy.
When I'd told Luis to save up for a few days before his shoot, he made a comment on the phone that was something along the lines of it not being a problem. I asked him about that when he showed up and said that he normally only masturbates one or twice a month, preferring to go out and meet someone instead. But even then, it had been a week since he last busted a nut!
Luis had an interesting way of jerking off. He even has a way where he can tuck his dick between his legs and cum without touching himself. Part of that seemed to carry over - he liked pushing his balls between his thighs and crossing his legs while stroking his cock. (That, apparently, explained his low-hanging balls). Leading up to the finish line, he pounded his shaft harder and harder, suddenly stopping as thick gobs of cum erupted and coated his pubes.