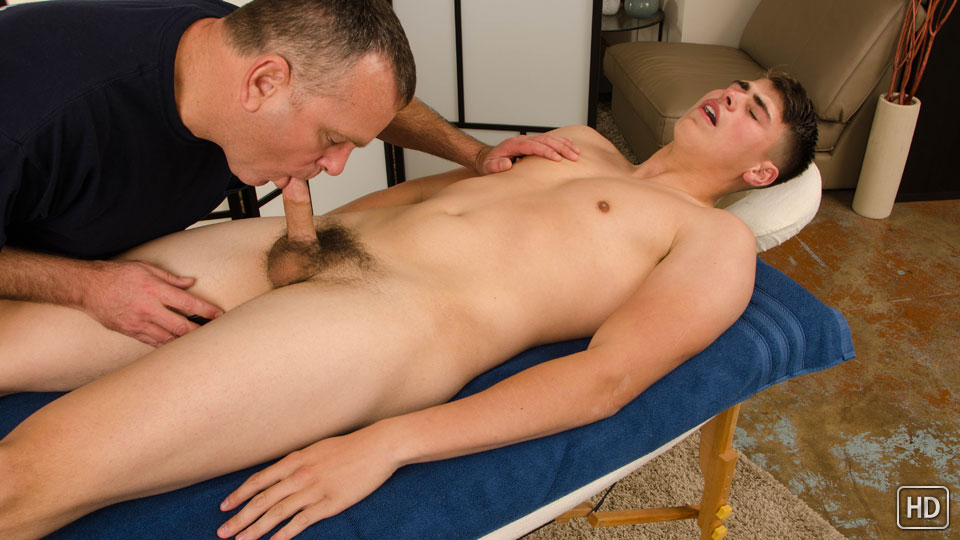 Watch the full scene:
Join Now!
When Ricky got in touch, asking about coming back for another happy-ending massage, you can bet I had the cameras set up ASAP. Because I mean, really, who could resist? Not me!
Ricky played it off like just another shoot when he showed up, but there were plenty of clues pointing to him be a little extra horny. He could barely keep his clothes on after walking through the door and was asking questions like, "Are you going to suck my dick again? Think you could rim me when I'm laying down?"
Probably needless to say, Ricky's cock was rock solid almost as soon as I started rubbing down his back. I pulled it from between his legs and every time my hands passed across his ass crack you'll see it swell up and get even harder.
Flipping over to get his front side taken care of, Ricky quietly moaned while I teased his dick with a few passes of my hands before giving him a few strokes. Wrapping my lips around the shaft, Ricky's mouth fell open in silent appreciation -- a BJ that I'm sure beat any of his girlfriends'.
As horny as he was, Ricky is not one of those guys with a hair-trigger dick; it takes a bit of work to get him up the edge. Not that I'm complaining! Those of you who like to see a long build-up will appreciate this one, as I left it almost entirely "real time" leading up to the grand finale. And it was certainly grand.
All the telltale signs slowly started showing, not least of which was Ricky's flushed red neck and face, right before his whole body clenched up and he fired off a load that landed up to his shoulder. There was so much cum that I couldn't help but lick few dabs off his chest. Mmmm...
Tags: Oral, Big Cumshot, Massage