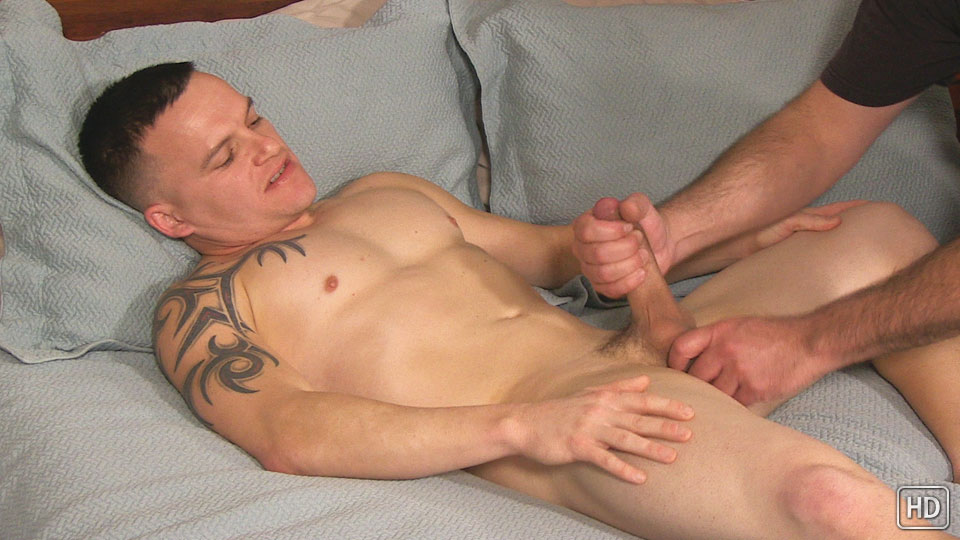 Watch the full scene:
Join Now!
Marty is a bit of a firecracker; a 5-foot-tall former Soldier, and now pursuing a career as a professional powerlifter. A mutual friend got us in touch when they found out that he was coming out to San Diego. Marty, not one to shy away from some naughty fun, jumped at the chance to get naked on camera.
Even though he's married, Marty said that his wife was totally okay the idea. After all, they'd had somewhat of a "non-traditional" start to their relationship, meeting at a swinger's party.
A little shy on conversation, it was telling that he was already getting hard as soon as he whipped his cock out during the photo session.
"I've been saving up for three days," he said with a laugh.
Once he got to stroking, his cock looked ginormous on his pocket-sized frame. And the pre-cum just never seemed to stop flowing. On a whim, I asked if he'd ever measured his dick. And, surprisingly, he said he hadn't. I, conveniently, had the measuring tape handy (wink): 7 inches long and a thick 5-and-a-half inches around.
Marty gave a quiet gasp when I gave his cock a couple extra strokes which was all the signal I needed to keep going. Within a few seconds he said he was getting close to busting. And, wow, what a finish. Marty shot streams of cum that covered his abs and pubes.
Tags: Helping Hand, Uncut, Muscular