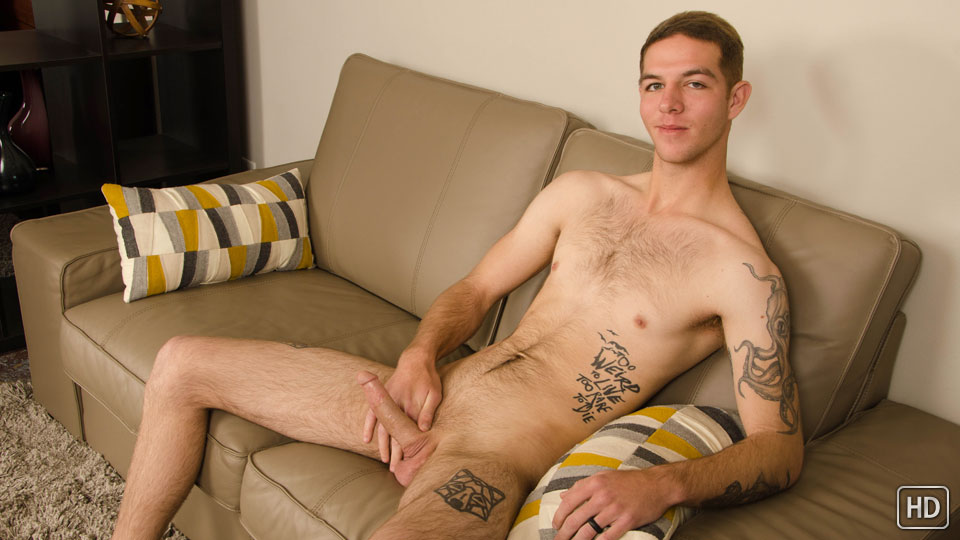 Watch the full scene:
Join Now!
A friend of mine got in touch a few weeks ago, saying that he'd met a military guy who wanted to get some porn gigs. A couple days later, Slater showed up at the studio with a gung-ho attitude and ready to bare it all on camera.
He's a tall, lean and hairy 21 y/o who played a long list of sports growing up. Since he hadn't mentioned it on the phone when we first chatted, it came as a bit of a surprise to find out that he's married. He'd told a few buddies about his idea for a side job; they thought he was a little crazy, but overall gave him a thumbs up. His wife, on the other hand, had no idea what he was up to. I asked what she'd think.
"If she found out now, she'd probably be a little angry about it," he explained, "but then probably let it go since I'm making some money."
After all, she seems to like the idea of watching Slater rub one out. He'll frequently put on little shows for her at home. Asked if he liked the idea of being watched, he admitted that it was fun to have an audience.
That seemed to be true once the cameras were pointed at him. Slater's cock was already at half mast when he pulled his jeans off and it seemed to get even harder every time he got the chance for a close-up on it. A seductive grin snuck across his face a few times as if he was truly having a good time showing off.
With a day's worth of nut stored in his balls, Slater took long, slow strokes getting himself up the edge. His low-hanging balls started scrunching up which was the first indication that he was getting close. Then, with a few final gasps, he gave the word that he was about to go, unloading a thick wad of cum all over his hand and pubes.
Tags: Hairy