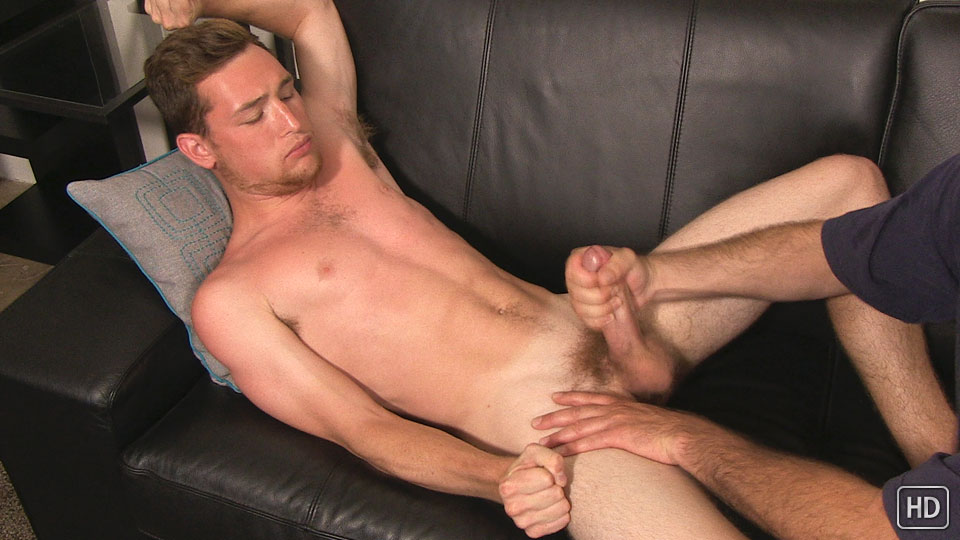 Watch the full scene:
Join Now!
Gareth is a bit of a late bloomer, being 20 y/o and losing his virginity only a month earlier. But he seemed hell-bent on making up for lost time. He'd run an ad online looking for a girl when I hit him about giving porn a shot. He was all for it even boasting to his roommates about getting naked for the world to see.
After showing up, Gareth was probably more excited about his big debut than he realized he'd be. After pulling his dick out during the photo shoot, he was already starting to get hard. It might have helped that he was extra horny since he hadn't jerked off for day. That might not seem like much, but for him, a guy who usually rubs out 3-5 loads a day, he was busting at the seams.
Once the video cameras were fired up and we'd starting shooting, Gareth dropped an unexpected question.
"Do you think people would like it if I sucked my own dick?"
Duh! Gareth rolled onto his back, curled his legs over and started licking the tip and getting a good bit of the head into his mouth. One word: limber.
This unexpected twist to his solo shoot only lead to another. For a skinny guy, Gareth had a whopper of a cock and was anxious to get the "official" measurement on it. A few extra grabs and I asked if he wanted to make a little extra cash for a helping hand.
He warned me that it might take some work to get him to cum, but I was up for the challenge. The build-up was super intense as Gareth writhed on the couch getting up to the edge. Backhand, two hands, working the head, eventually the magic grip happened and Gareth blurted out that he was going to pop just before spraying his chest and abs with a hefty load.
Tags: Helping Hand, Hung, Redhead/Ginger