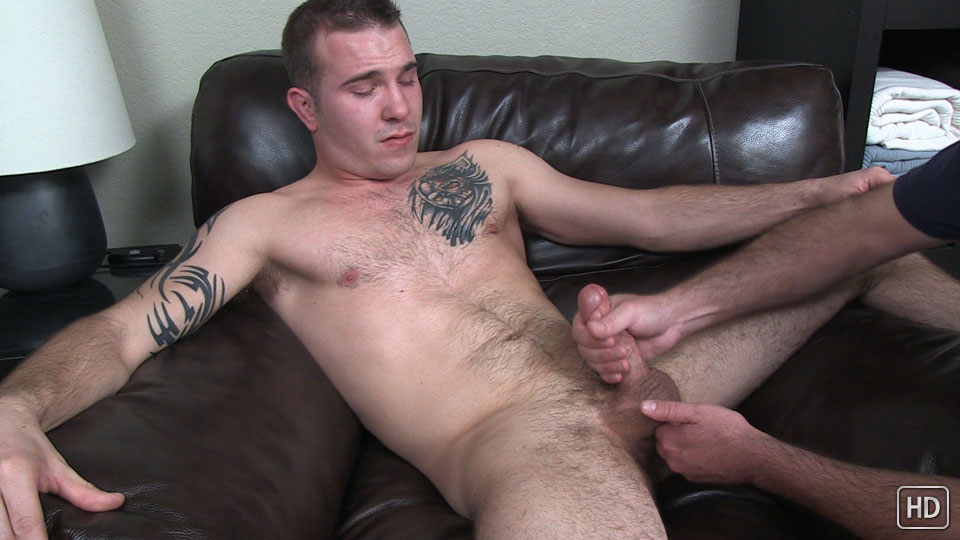 Watch the full scene:
Join Now!
Cody is a 24 y/o str8 guy who has been looking for ways to make some extra cash. Normally, this would be the part of the story where I stepped into the picture, but it was actually Cody's fiancé who gets the credit here-- she's the one who talked him into giving porn a try!
When he sent in his pics, I was immediately on the phone setting up a shoot with him. I couldn't resist his tight, furry bod. Cody spent the better part of his teens wrestling (and was even state champ) which has kept him in great shape, even well after high school.
Cody was fairly nervous about his first time gettin' naked on camera, but he was determined to give it his all. He even gave his girlfriend the shut-down on sex for a couple days so he would be primed with a nice load saved up.
Part way into the shoot, I took a risk and thought I'd see if things could get taken up a notch. When I reached out to grab Cody's balls, his initial reaction was to leap back, having never had a guy touch him before. After a second, though, he realized it wasn't all that bad and, with a look of disbelief on his face, let me get a thorough grope of his nads.
As it came time for his cumshot, I made an offer to Cody for some more money if he'd let me do the honors and finish him off. He gave an uncomfortable smirk, but agreed to it. Within a few minutes of stroking him off, and with barely a warning, Cody's body tensed up and he shot a stream of cum halfway up his chest.
Tags: Hairy, Helping Hand