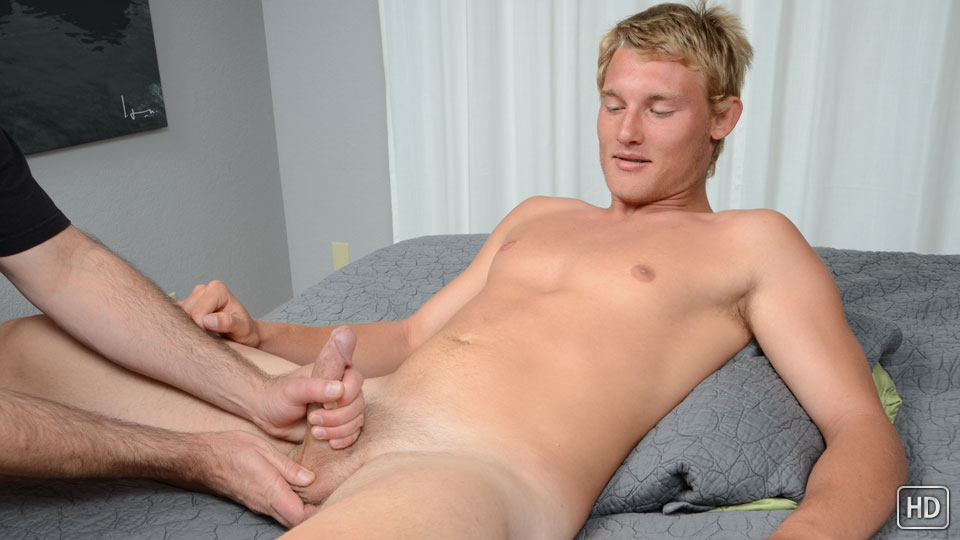 Watch the full scene:
Join Now!
Nate was on the fence when I asked him about getting a hand job. Mainly, I think, because he'd told a bunch of his buddies about doing porn and wasn't sure he wanted them finding this shoot. But, eventually, enough cash was on the table to get him back.
For his first time doing anything with a guy, Nate saved up a couple days load so he was extra horny when the cameras started rolling. When I started rubbing his cock through his shorts Nate was already rock hard.
As I pulled his shorts off and lubed up his shaft Nate shut his eyes and rolled his head back with a gasp, then glancing down at his cock being worked over with a look of amazement and disbelief on his face.
I grabbed the camera from the tripod to get some close-ups of Nate being stroked "POV style." I wasn't sure how he'd react as I slid a finger up his ass crack, but Nate's quiet "Oh, fuck yea" seemed to give the nod to going further. He bent over on his knees to give us a closer look at his tight hole while I milked his cock from between his legs.
Nate flipped back around and lay on his back, "You want me to just go for it?" he asked. As I started stroking him up to the finish line, Nate took a couple minutes to get there, but the build up was too hot to edit down. He closed his eyes, mouth slightly gaped, and writhed on the bed with growing intensity until barely able to gasp, "Oh, yes... oh, fuck yes... I'm gonna cum," and unloaded all over his leg and onto the bed.
Tags: Helping Hand, Blond