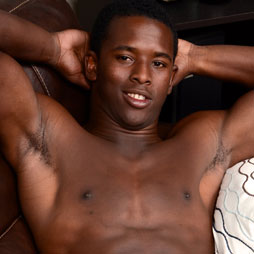 Age: 22
Height: 6' 1"
Weight: 195
Shoe: 12
Cock: 9 1/2" x 6"
Orientation: Straight
Even though I kind of expected Heath to whip out something of a big dick when his pants came off, it still made me a little light-headed when he did. Maybe a little beyond my expectations. Especially seeing it attached to such an already jaw-dropping body.
But he's not just eye-candy. Heath is also an intelligent and funny guy. Between takes, there were some gut-bustingly hilarious moments, perhaps enough to make an out-take "bonus video" down the road. The short story is that Heath was a great first-timer and a welcome addition to the site.
I also noticed while editing his video that there was the slightest hesitation when I asked him if he's straight. Maybe there's a slight "curiosity" in there that we'll get to see in future videos.