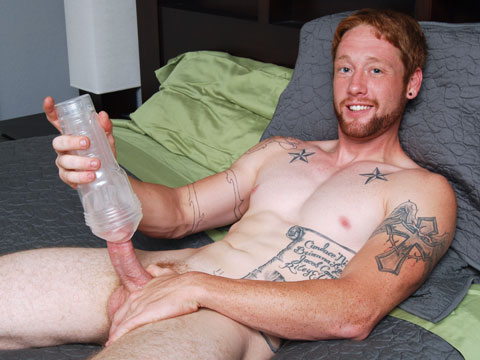 Watch the full scene:
Join Now!
When Darren was over last time he noticed a Fleshlight sitting on the countertop.
"Oh my god!" he said. "I had one of those in Afghanistan."
Apparently deployment with the Marines got a little lonely and he had ordered one online and had it shipped to him overseas. And even got caught using it one night by another guy in the barracks.
Darren's got a thick 8-inch dick and I thought it'd be hot to "reunite" him with a Fleshlight and see him cram his cock inside. Seeing how he uses it, I can understand how he got caught; he's not exactly subtle. I especially liked his two-handed fucking technique.
Darren had saved up a 2 day load and warned me it might be a big one. And WOW was he ever right. Stream after stream of cum shot up his chest, nearly hitting him in the face!
Tags: Fleshlight, Big Cumshot, Hung, Redhead/Ginger, Muscular