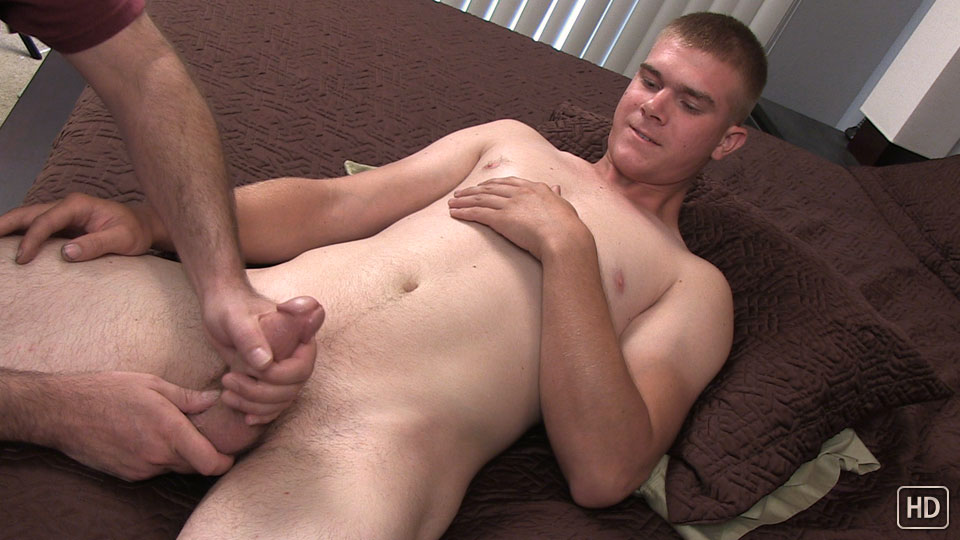 Watch the full scene:
Join Now!
Galen is a straight 20 y/o Marine stationed in San Diego, complete with the tell-tale military farmer tan. He's had a bit of a conservative, sheltered life up until recently and decided it was time to cut loose now that he's away from home. He only lost his virginity 3 months ago and when I asked him about being in porn he figured he might as well give that a shot while he was at it.
Galen said he was a little nervous being in front of the cameras for the first time, but I would say it was nervousness bordering on excitement. When he dropped his pants, he was already sporting a half-mast woody.
He was on the quiet side during the first part of the shoot, but wasn't one who spent the whole time staring at the DVD playing in the background. There was an underlying tension going on that made me think he wanted to do "more," but didn't know how to ask.
When it came time for his cumshot, Galen was taking a long time to get there. After 30 minutes of jerking off (yes, that was edited out), I just tossed it out there and asked if he wanted to try getting a handjob. His dick instantly got harder at the suggestion.
"That would probably speed things up," he said with a little smile.
As I lubed him up and started slowly stroking his throbbing cock, I could tell this was just what he needed. Galen got a surprised look on his face.
"Shit! Maybe we should have started with this. It feels really good."
Within minutes, Galen's body tensed up and out popped stream after stream of cum that flew clear over his shoulder!
Tags: Helping Hand, Big Cumshot, Blond