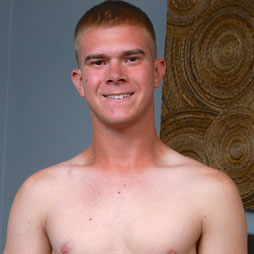 Age: 20
Height: 5' 8"
Weight: 145
Shoe: 8 1/2
Cock: 6" x 5"
Orientation: Straight
Even though Galen identifies as straight, I think there's a kernel of curiosity in there about what it's like being with a guy. He's only just begun to explore his sexuality, for sure, having only had sex with a girl for the first time a couple months ago.
And he doesn't seem to mind sharing his explorations for the rest of us to enjoy!
I don't know what else will transpire down the road, but I will certainly keep the cameras ready for next time this horny Marine gets the urge to try something new.
Tags: Blond
Videos
Photos
Bonus Scenes