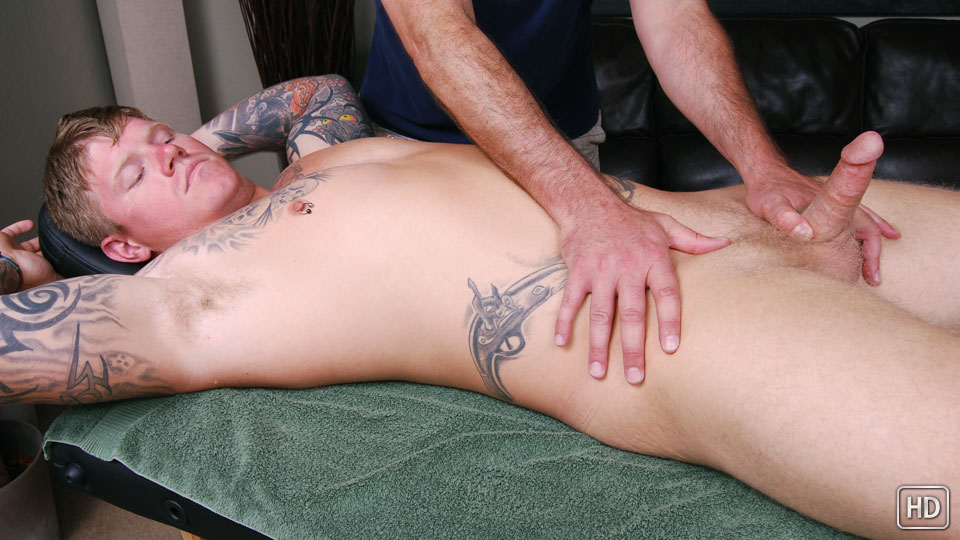 Watch the full scene:
Join Now!
How's this for an early Christmas treat? Carter has been on the fence about doing anything with a guy, but eventually needed some holiday cash and decided to get his first happy-ending massage from a guy. Like a lot of the straight guys, he wasn't sure he'd be able to get off with another man. That idea was thrown out the window when things got going, though.
Carter admitted that he'd gotten a massage once before while on deployment in Thailand. "It was dirt cheap, too," he added with a laugh.
Carter lay on the table and was silent for the most part, closing his eyes as I got to work rubbing down his broad shoulders and muscular ass. I wasn't sure how he would respond to having his cheeks spread and his tight hole massaged. When he didn't flinch, I pushed his legs further apart and grabbed his dick from under him to give it a tease.
He turned over onto his back to give the front side some attention. When my hands ran past his cock it started perking up. Carter glanced down as I started jerking him off and suddenly told me to "hold off a sec" or he was going to cum. "It feels too good, I guess," he said with a hint of surprise in his voice.
I could tell Carter's ending was going to be a hot one. I continued slowly stroking his cock and rubbing his balls to keep him on the edge as long as possible. Which wasn't too long! When it seemed like he was beyond turning back, it took hardly more than a few strokes before Carter's body tensed up and he was shooting cum all over his stomach.
Tags: Blond, Muscular, Stocky/Husky, Massage, Redhead/Ginger