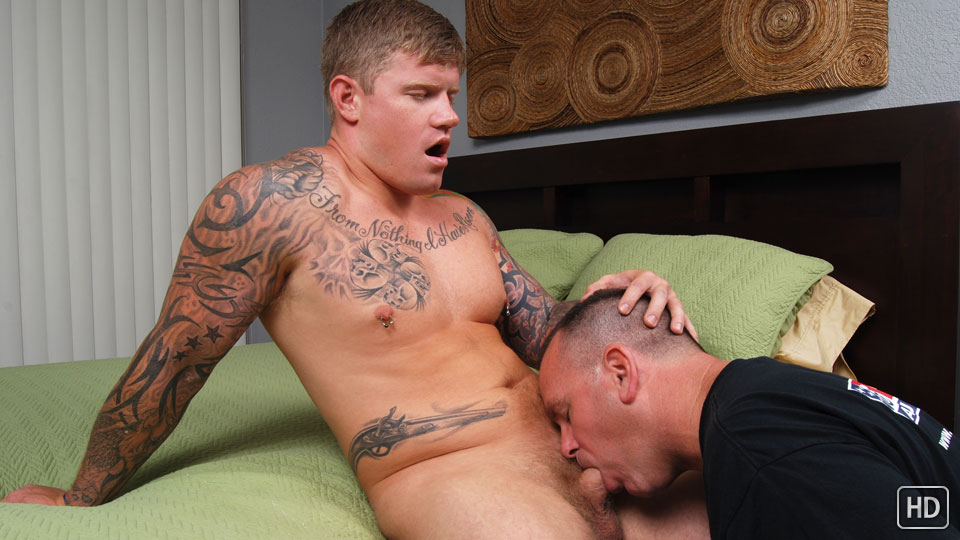 Watch the full scene:
Join Now!
Honestly, I wasn't sure that this shoot would ever happen. Carter, after getting his first "happy ending" massage, said he was going to need some time to think about going any further with a guy. Well, I don't know if it was time as much as the stack of cash he was offered that eventually changed his mind.
Carter stopped by on his way to football practice in his workout shorts and sleeveless t-shirt. It was a hot idea that afterward he was going to out there with the rest of his team, knowing he had just been sucked off by a dude.
When the cameras started rolling, though, Carter was a little edgy, definitely still contemplating what was about to happen. But as he started getting sucked, the expression on his face went from uncertainty to one of clear pleasure, and his dick was quickly on board for the ride as it hardened in my mouth.
I pulled one of Carter's legs back while he was sitting on the bed, giving his meaty ass a lick. Carter let out an appreciative moan and watched as he got what I assumed was his first rim job. I asked him if he'd ever had his ass eaten to which he gave a crooked smile, saying he hadn't. That was enough of a cue for me to have him get on all fours for the full treatment.
Once Carter stood up, as I've found with a lot of the guys, he took control of the situation. He immediately started thrusting his hips to fuck my mouth. After a minute, Carter had both hands wrapped around the back of my head, pushing his cock down my throat.
Carter must have been on the edge the whole time. When he lay back on the bed to get finished off, Carter closed his eyes and within a minute he gave the signal that he was about to bust, spurting his load onto the bed and all over his pubes.
"So, what did you think of your first blowjob from a guy?" I asked him.
With an exhausted smile on his face, Carter simply replied, "It was amazing."
Tags: Oral, Blond, Muscular, Stocky/Husky, Redhead/Ginger