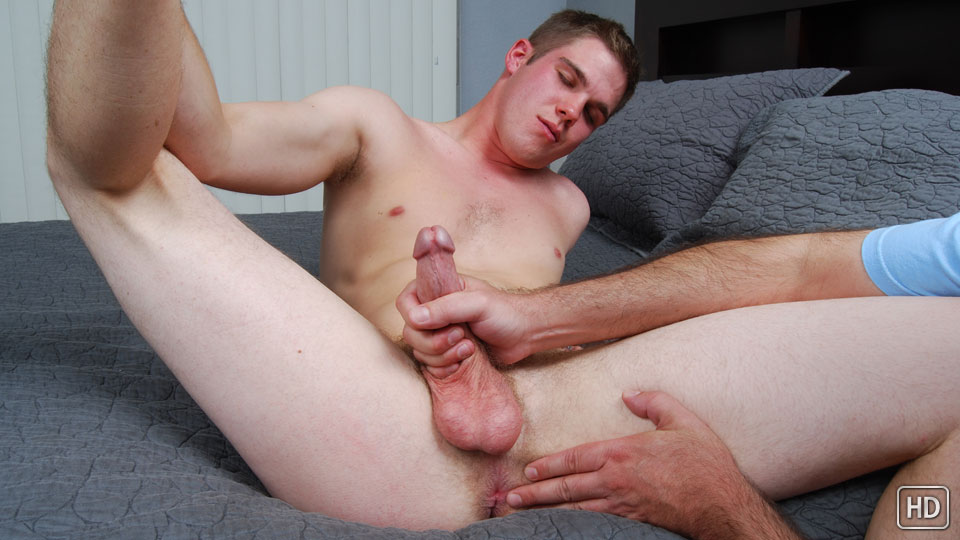 Watch the full scene:
Join Now!
After his solo, I had asked Parker about getting a handjob and he said he needed a little time to think about it. Apparently, not too long, though, because he called up a few days later saying that he was horny and ready to do it.
For a guy who normally jacks off a few times a day, having 2 days stored up he was definitely set to go. His dick was already hard by the time the cameras were rolling. When I pulled it out of his shorts and rubbed on some lube, Parker's head rolled back and he gasped, "That feels so good!"
With one hand on his cock, I took the other and started massaging his ass which caused him to start moaning even more. I pushed his leg back to get better access to his hole. Parker was clearly getting into having his ass played with so I had him flip over onto all fours.
I lubed up a finger a slid it down his tight hole. Parker may not have realized it until then, but that seemed to be the magic button. His cock immediately got harder as I was stroking him from behind while fingering his ass.
As he turned back over and lay on the bed, I slowly ramped up the speed of jerking him off and kept a finger between his ass cheeks. This was enough to send Parker over the edge. His body arched while he pressed his head back into the pillow and Parker moaned in ecstasy while pulses of cum slid down my hand.
Tags: Helping Hand