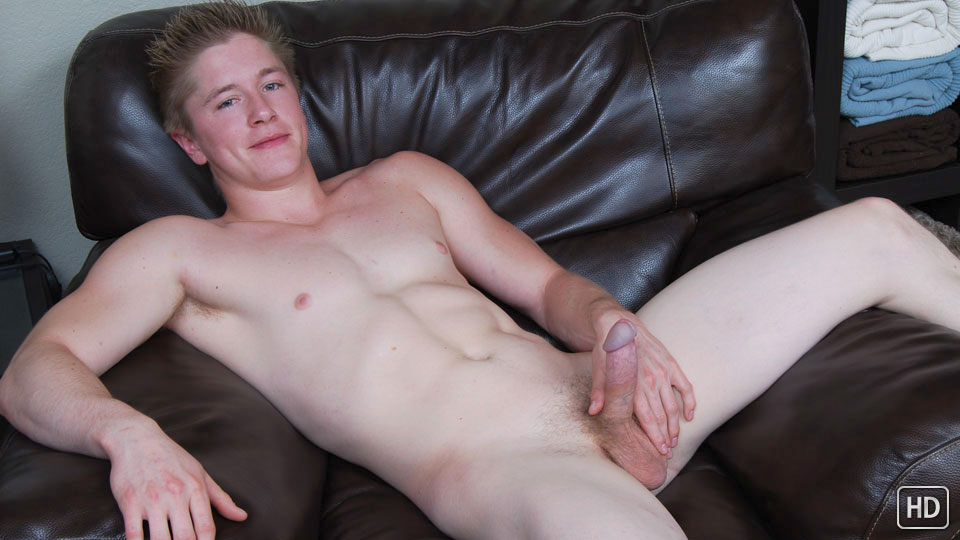 Watch the full scene:
Join Now!
Jon is 21, str8 and just recently decided to make his porn debut. He's been asked before, but I guess the stars were aligned when he was approached this time. His eyes lit up when I popped the question because, apparently, it's something he's thought about for a while.
"When I was in 8th grade I told my friends I was going to be in porn, or own a porn company," he said with a laugh.
Jon is a So Cal native and played a bunch of sports in school, wrestling being his favorite. It was a nice surprise to see that not only did he spare his pubes from the razor, but that they matched the blond hair on his head. He's also got some hot low-hangin' balls that even his girlfriends have noticed.
He seemed a little nervous about dropping his pants on camera for the first time, and admitted that he was "nervous and excited." Nerves probably explained him being on the quiet side during the shoot, but the excitement was clear from how fast his cock stood at attention.
Jon said he normally jacks off every day, but wanted to make a good impression so had saved up for a couple days. The build-up to his cumshot was intense. Jon's whole body tightened up and shook while his cock looked like it was going to explode as dollops of cum spilled onto his pubes.