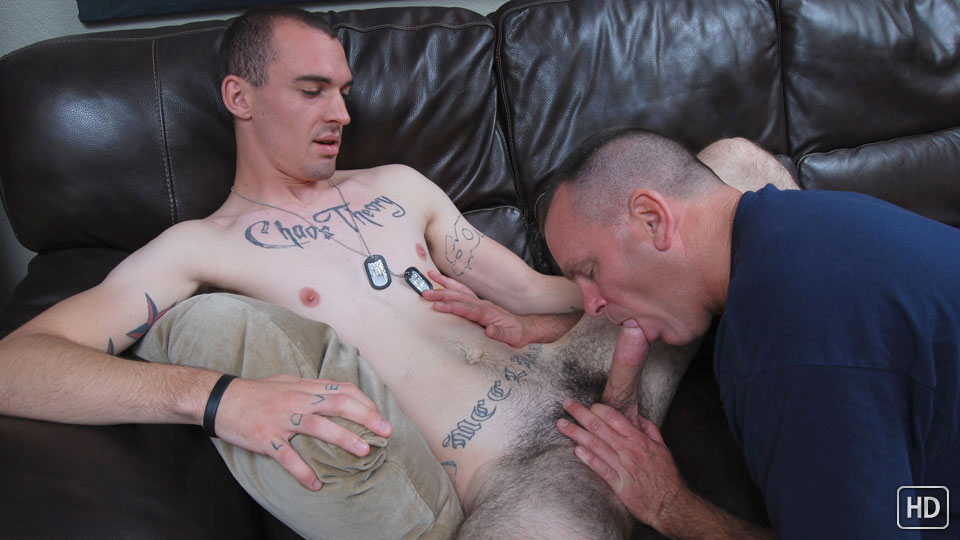 Watch the full scene:
Join Now!
Mike, I've discovered, is a total horn-dog. I tossed the idea of a blowjob out to him and he was rarin' to go that same day!
Something tells me he likes the idea of getting his thick shaft worked over, free from having to do anything except kick back and enjoy the ride. At least judging from his facial expressions and what he was saying. As I pulled the zipper down on his jeans and put his balls in my mouth, Mike let out a gasp, "Oh, fuck yeah. Suck those balls!"
Mike's cock started growing once I had my lips wrapped around it. It's a thick one, for sure, and there were a few moments that tested my gag reflex as I tried to deepthroat him. That seemed to turn Mike on and he smirked knowing that he was going to make me work extra hard to get him off.
Remembering how Mike liked having his ass played with from his handjob last time, I pushed his legs back and stuck my tongue between his cheeks. That was enough to send a shiver through Mike's body; his eyes squeezed shut and he grabbed the back of my head to push it deeper into his crack.
Mike flipped over to all fours so I could continue rimming him. Luckily, one of the cameras was positioned so you can catch the look of ecstasy on his face while his hairy hole is getting the royal treatment.
Finally, Mike stood up and started fucking my mouth. I couldn't believe how intense he was getting. Just as I thought I couldn't take it any more, Mike pulled his cock out of my mouth and started jerking off, grabbed the back of my head and blasted a gigantic load onto my mouth and face that left me dripping in a shower of cum.
Tags: Oral, Big Cumshot