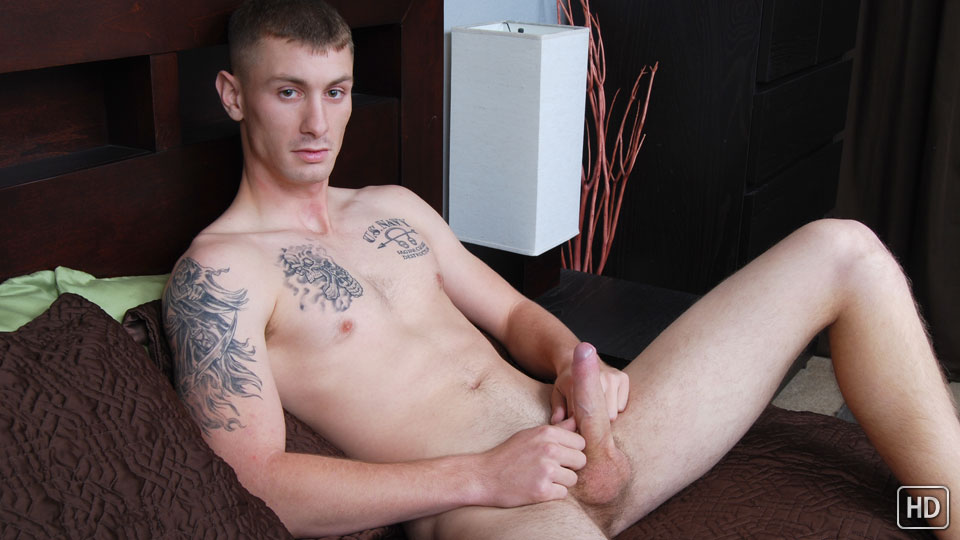 Watch the full scene:
Join Now!
Ethan just moved to San Diego a few months ago. A Navy transplant, in case the tattoo didn't give it away. When I hit him up with the "how'd ya like to do porn" line, he hardly batted an eye. Apparently, he'd already heard that once or twice before, but hadn't indulged the fantasy. Until now.
"I've been approached about doing it," he laughed, "I've finally decided to take the plunge."
And left his wife-to-be in the dark about it.
Ethan was mostly nervous that he wouldn't be able to perform in front of the camera, but it wasn't a problem at all! He was so excited about baring it all that his dick was already standing at half-mast when he pulled his pants off. I love that!
He is a quiet one. I wouldn't say it was because Ethan was nervous as much as just getting used to being in front of the camera and not really sure how far he could let his inhibitions go.
That was all saved up for Ethan's grand finale. He has a fast-paced jerk off style that included some prostate stimulation action. As Ethan geared up for his cumshot, he shoved one hand between his legs and worked himself up to an explosive ending.
Tags: Uncut