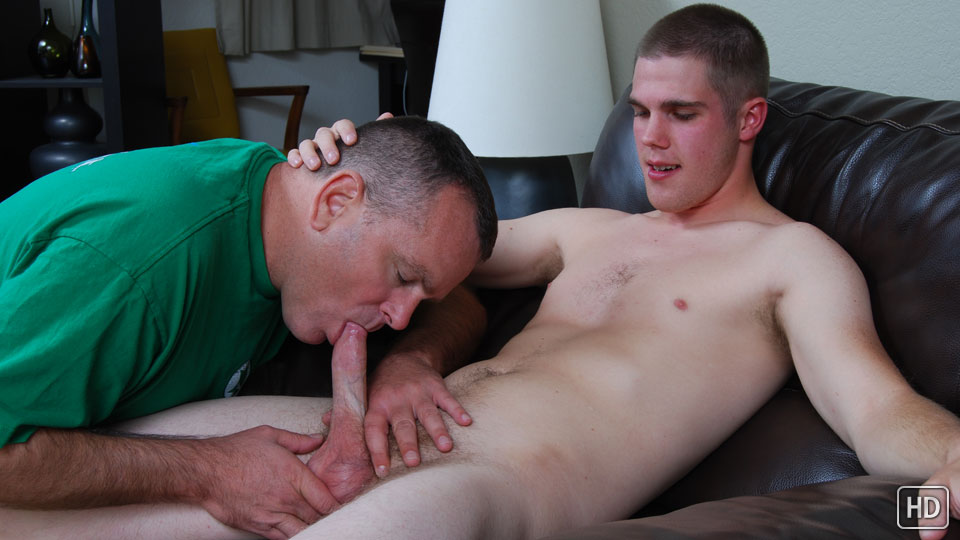 Watch the full scene:
Join Now!
A lot of the times, cash is the major motivating factor for the guys getting sucked off on camera. Every once in a while, though, it comes down to them being extra horned-up and the money is just a nice bonus. This seemed to be the case with Parker, whose girl had been holding back the goods on him. He had admitted to being curious about guys anyway, so this might have been an easy chance to test the waters.
I got a text one morning from Parker. "Hey, think we could do that blowjob movie you mentioned?" Sure enough, he showed up within an hour, already with a hard-on that was tenting in his shorts. And when I unzipped them he was primed, ready for action.
Remembering that Parker liked having his ass played with last time, I was sure not to neglect it. Although, this time it was my tongue doing the honors. Parker's eyes squeezed shut and his jaw fell open as his tight hole was getting worked over.
Parker stood up and grabbed the back of my head as I slid his throbbing shaft down my throat. There was a look of startle, then a broad smile of approval when I started sucking on his balls while stroking him off-- that look of realization that us guys really do know how to suck dick better than anyone else!
I sat Parker back down for his grand finale. He took some work to finish off, but the build up to it isn't one to miss. I worked his cock faster and faster, finally sticking a couple fingers up to massage his ass. "Oh, yeah. Just like that!" Parker gasped in appreciation. That did the trick! Parker barely was able to give me warning that he was about to cum when I pulled off just in time for a sticky load to run down the side of my hand.
Tags: Oral