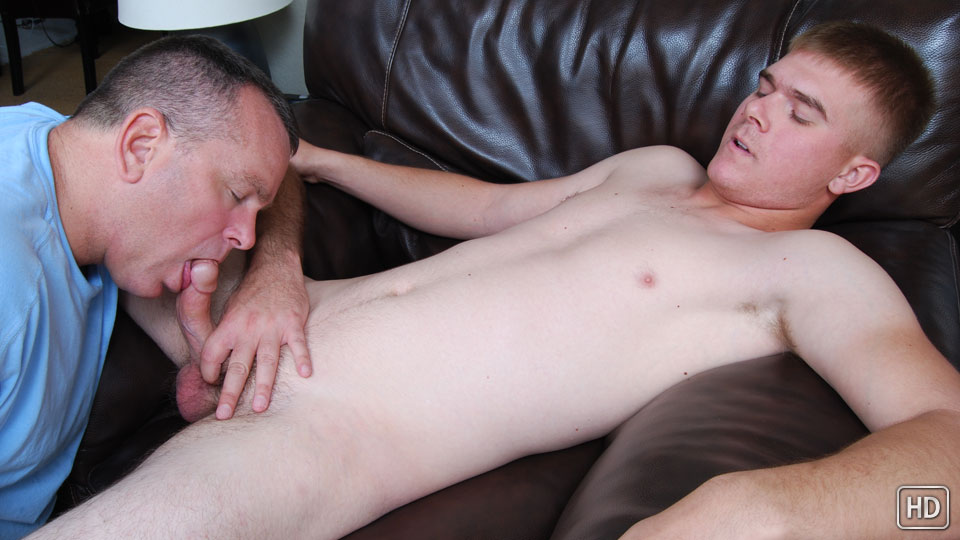 Watch the full scene:
Join Now!
Galen, if you remember from his earlier scenes, had only lost his virginity last summer and, since first showing up on the site, has been dabbling in a few new things with guys (all caught on camera here). Although he maintains that he's straight, something tells me Galen is more bi-curious than he lets on. He sent a vague email recently asking about coming over for another shoot. Instinctively, I knew what that meant: Galen was horny!
As soon as the cameras were rolling, I could see Galen's jeans start to tent up with a hard-on underneath the denim. I peeled back his clothes and out popped a raging boner.
He's a pretty quiet guy, but when I wrapped my lips around his cock, the look on Galen's face said it all. He closed his eyes and let out a soft gasp in appreciation of the warm mouth sucking his shaft.
Remembering how swollen Galen's cock got when I was rubbing his tight ass during his massage scene, I had him flip over onto his knees and stuck my tongue into his hole. Galen's mouth dropped open and he had the look of sheer ecstasy. When I slipped a finger inside his ass, his dick got so hard that I thought he would cum right then.
Galen stood up, grabbed the back of my head and started thrusting his hips toward my mouth. I could hear Galen's breathing getting deeper, and standing up to take more control seemed to be just what he wanted. When it seemed like he was on the edge of busting, I had him sit back down to finish up.
With my finger up his ass, Galen took hardly a minute before quietly tapping me on the shoulder. I pulled off his cock and stroked him a few more seconds until an unbelievable fountain of cum shot over his shoulder, hitting the wall 3 feet behind him.
Tags: Oral, Big Cumshot, Blond