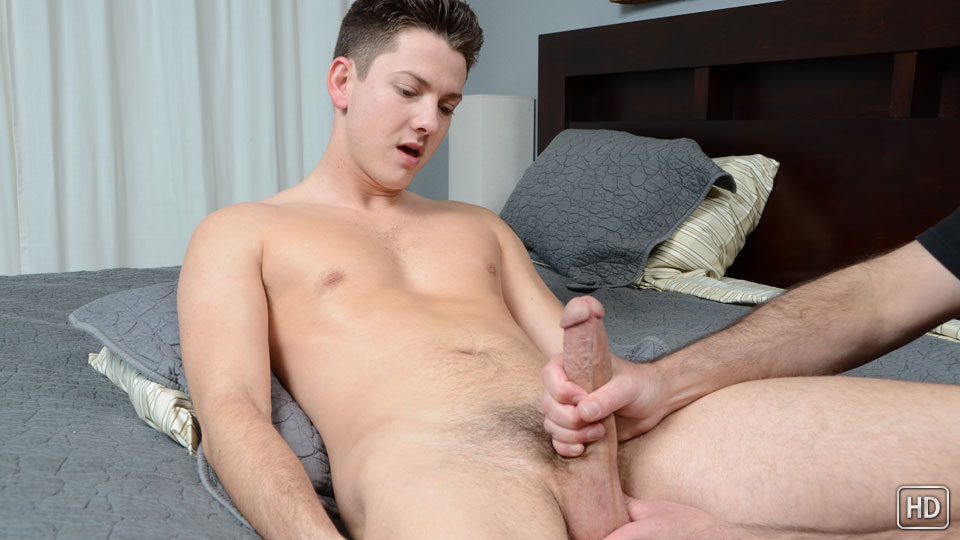 Watch the full scene:
Join Now!
Aden called to let me know that he was going to be back in San Diego and asked about doing another shoot. I think we both knew that that was code for wanting another handjob.
When he showed up, Aden was quieter than I remembered from last time. But through his gym shorts I could see that he was already getting hard, so it was clear that he was nervously excited about getting naked on camera again.
Aden's cock was rock hard as I peeled off his clothes. At first, he didn't react much to getting his shaft stroked, but kept looking up at the cameras, watching himself on the monitors. When I lubed him up, Aden's gaze moved down to his cock and he let out a quiet moan.
I grabbed the camera and had Aden get on his knees for a close-up POV of his ass and the throbbing seven inches between his legs. Slowly rubbing his hole and shaft, Aden's face started to look like he was getting close to cumming.
He turned back over and I had a that feeling Aden wouldn't mind more than a hand on his cock. "Mind if I suck on it?" I asked him. Aden smiled and hesitated for a second before sheepishly responding, "Okay."
As I wrapped my mouth around his cock, Aden let out a deep gasp and his head rolled back in ecstasy. Aden grabbed the back of my head and watched himself being blown. His whole body tensed up and barely was able to say that he was about to cum before thick white dollops erupted, landing on his thigh.
Tags: Helping Hand, Oral