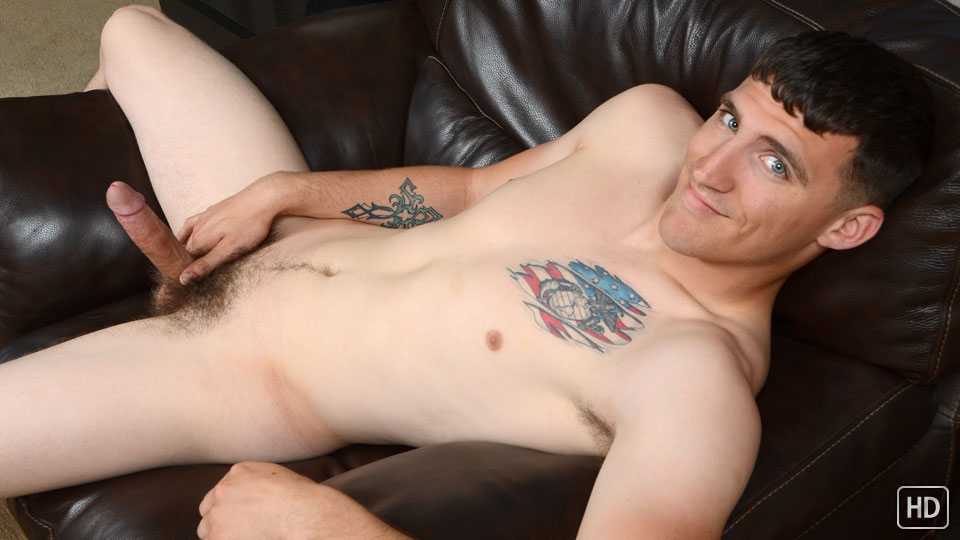 Watch the full scene:
Join Now!
Take one look at Ty's piercing blue-green eyes, and you will be immediately smitten with the 20-year old stud. Luckily, his 6'1 frame and toned 160 pound body doesn't disappoint either.
Ty had been thinking about trying porn for a while, but he was nervous about it. He was introduced to me by a mutual friend, and though he came off a little shy at first, he loosened up and put on a fantastic show. Maybe it didn't hurt that he and a Marine buddy had once dared each other to jerk off together, so this wasn't his first time stroking his meat for a guy.
Ty started off by leaning back on the big leather chair and stroking slowly, showing off the build that came from years of track and football in his Kansas hometown. As Ty's meat stiffened, he rubbed it faster and harder, sometimes using two hands as he stroked himself all the way down to his thick hairy mane of pubes. Then he stood up, showing off his towering frame and picking up even more speed.
Ty then surprised me by turning around and putting his ass on display, perfect and round from being a defensive end on his football team. He kept stroking with one hand, using the other hand to pull his cheek out wide and give a prime view of his hairy crack.
As if that weren't a pleasant enough treat, he then turned back around and started to finger that hole as he worked himself up to a big finish. He kept pushing deeper with his finger as the precum dripped out of his cock, eventually gushing out a sweet load all over his chest.