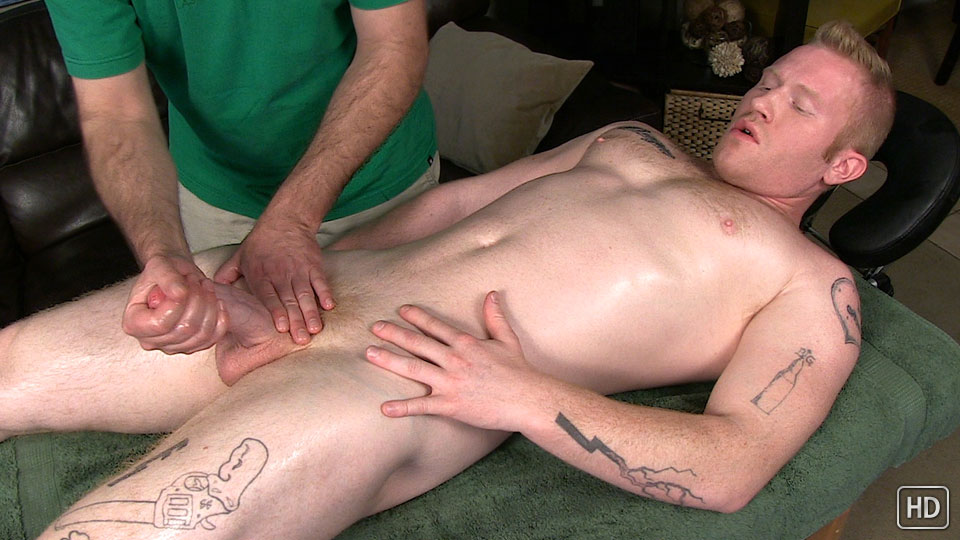 Watch the full scene:
Join Now!
It took a while, but Perry finally needed the cash enough to get his first happy-ending massage from a guy. He'd got one before from a girl who he thought was just giving him a "regular" massage. Until she reached down and started jerking him off. Surprise! But it didn't stop him from being a repeat customer at that salon.
Rubbing down Perry's body was going to be a treat, for sure, but it was his muscular ass that I was looking forward to the most (at least on the back side…) When I pushed his legs apart and spread his cheeks, the dusting of fine red hair lining his ass crack was enough to drool over. The ever-thickening cock poking between his legs was the prize waiting on the front side.
Perry flipped over, revealing how much he was enjoying the experience so far-- his big, downward curved dick hoisted up like a flagpole.
I started at Perry's chest, slowly moving my hands down his body so they teased his cock. It wasn't long before I had both hands wrapped around it, though, and Perry responded by lifting his head to watch me stroking him off.
Perry began breathing heavily as I jerked him harder, quietly moaning under his breath. With a super hot build-up, Perry's whole body started twitching as he shot a load that dripped down his leg.
Perry said it was better than the massages he'd gotten before, so maybe we'll have a repeat customer here, too!
Tags: Hung, Redhead/Ginger, Muscular, Massage