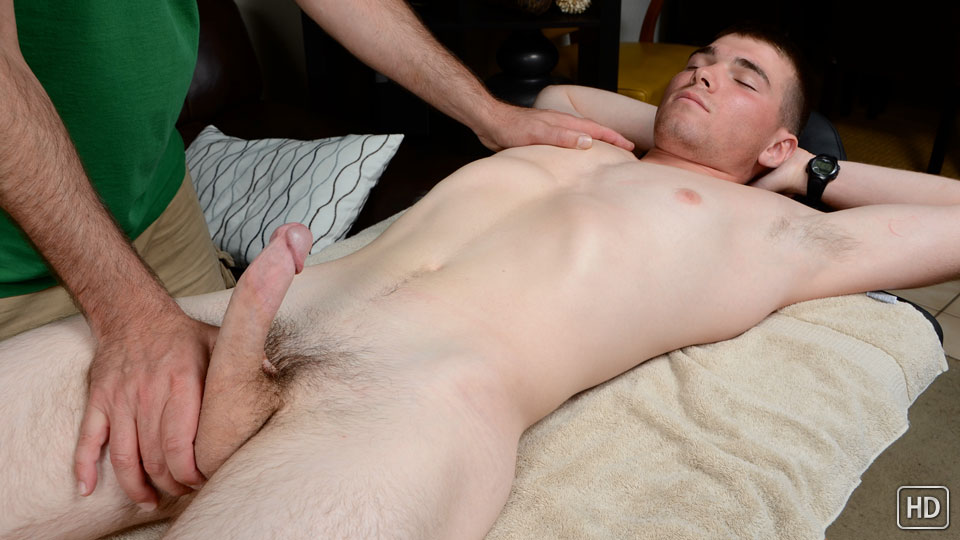 Watch the full scene:
Join Now!
Last time, Randy showed up for his first porn shoot with a six-day load in his balls. He wanted to one-up his buddy Sean, and shooting a bigger load than him was one way to do that. This time, Randy showed up for his first happy ending massage ever, having just nutted the day before. I thought perhaps his competitive streak was over, but little did I know what was to cum… and cum.
"Let's do it," Randy said as he lay face down on my massage table, his hairy bubble butt already seducing the camera. I oiled his back up and moved toward his beautiful ass, cupping each cheek in my hand and grazing my hand along his crack. As I spread his legs wider, I couldn't help but notice his cock stiffening so I pulled it out from under him and rubbed the tip.
I flipped him over so I could give some attention to his front side. Randy's dick was rock hard now with a bead of pre-cum leaking out of the tip, just begging to be rubbed. I worked my way up his legs and found my way to his cock. I massaged his shaft and was surprised when he pulled away from me suddenly.
"Fuck, stop! Stop!," he said with a laugh. "That was a close one. It snuck up on me."
Guess he must have liked what I was doing. Once he'd recovered, I went back to the job at hand (pun intended) and Randy proceeded to shoot a dense, creamy load of jizz into my hand and all over his stomach.
And then, instead of stopping, Randy told me to keep stroking him. That's right, in his quest to one-up his buddy, Sean, Randy wanted to cum twice.
I went back to stroking him, now using his cum as lube. I couldn't resist tasting the creamy jizz, so I leaned down and took his cock in my mouth as I continued to stroke him. Once I pulled my mouth off, Randy's breathing intensified and he shot out a second stream of jizz!
"Hey, go big or go home," he said. I'm not sure how Sean is going to outdo this, but I can't wait to find out.