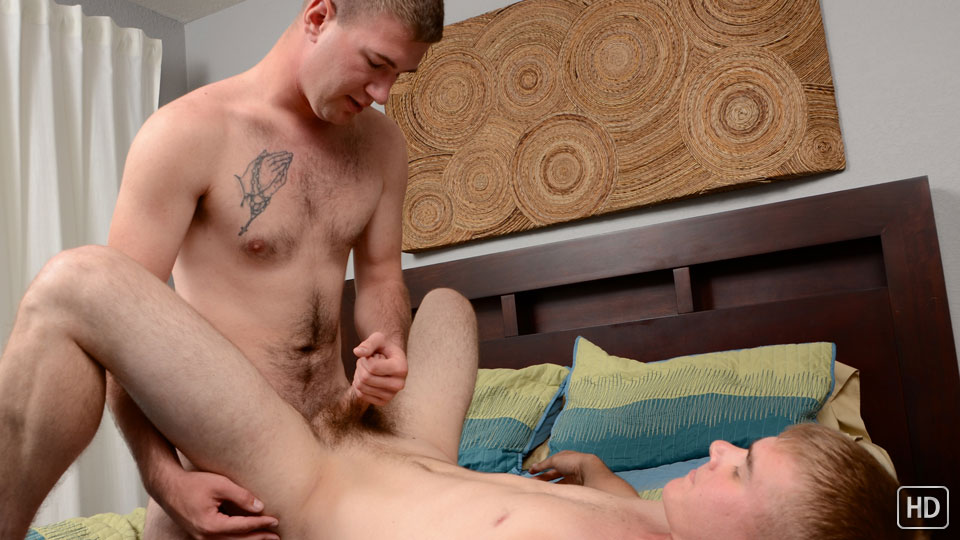 Watch the full scene:
Join Now!
Lance and Galen finally agreed to come back into the studio, for some hardcore action this time. They were both nervous as they stripped off each other's clothes, revealing Galen's smooth body and Lance's hairy one. Galen got right to work on Lance's cock, sucking him down all the way to his hairy balls. Lance grabbed Galen's head and pushed him even deeper, thrusting his dick in and out of Galen's mouth.
"Come here," Lance eventually said, grabbing Galen and leading his ass toward his cock. Galen sat right down on Lance's hard pole, and began bouncing up and down on it. Lance proved to be quite the top, turning Lance around and fucking him from behind, then flipping Galen onto his back, legs up in the air, and pounding away with abandon.
Lance pulled out and shot a load all over Galen's face, coating it with a thick white glaze. Lance looked like he needed a little help when it came time to make Galen cum, so I jumped in to lend a hand. But to my surprise, Lance wanted to go for round two, so I stroked a second load out of him first before moving onto Galen.
Then I jerked Galen's cock as Lance manned the camera for me. I earned a huge load from Galen that shot clear up to his head, a little of which I fed to him from my finger. Three creamy white loads in one scene!
Tags: Big Cumshot, Hairy, Anal, Blond