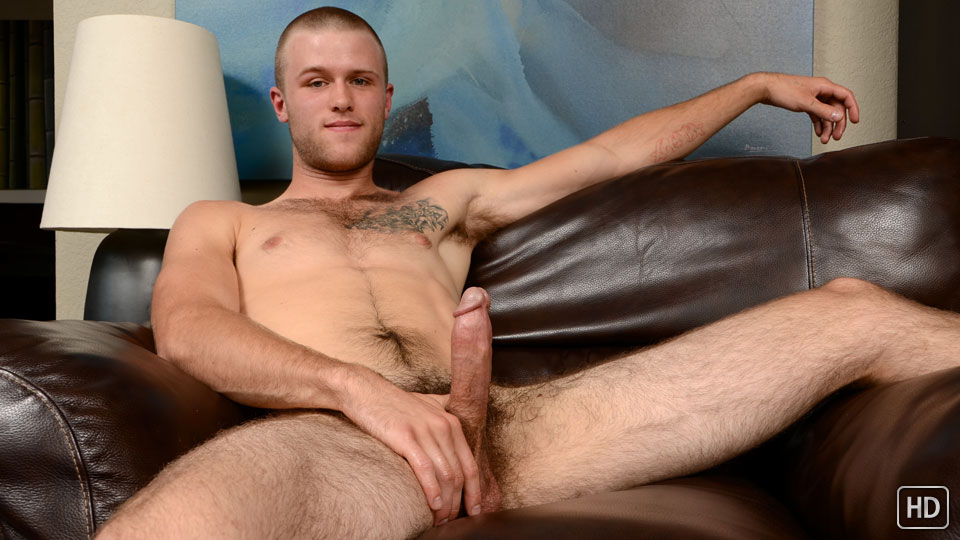 Watch the full scene:
Join Now!
If Cy looks familiar to you, it's not because you went to college with him. He's actually one of the rare guys on the site who has done porn before. We'd been talking for over a year before finally getting him in front of my cameras. I usually like being a guy's first and popping their "porn cherry," but hey, sometimes I make exceptions in exceptional cases, and Cy is an exceptional guy.
Handsome and playful, Cy immediately charmed me by describing himself as "a ninja" when recounting how he has never been caught jerking off.
But if a sense of humor isn't what you're after, there's always his body: tall, toned, and hairy. That's right, Cy likes to let his body hair grow au naturel and wild. I think you guys are going to love the happy trail leading down to his untrimmed bush and hairy legs. I know I did!
Cy made himself comfortable, stroking his dick like the jerk-off ninja he is. Maybe the best part of watching Cy beat off is the come hither looks he gives to the camera. This guy loves showing off, and seemed to get off knowing others would be getting off to him.
If you're an ass man like me, just wait until he turns over and shows off his hairy hole. You'll be in butt bliss. And if your preference is to see a hot load of jizz erupting from a hot young cock, then you'll probably erupt yourself when you see Cy work himself up to a frenzy and coat his pubes in thick, creamy cum.
Cy says he's open to going further, so keep your fingers crossed he comes back for more. Something tells me this ninja has more tricks up his sleeve, and down his pants.