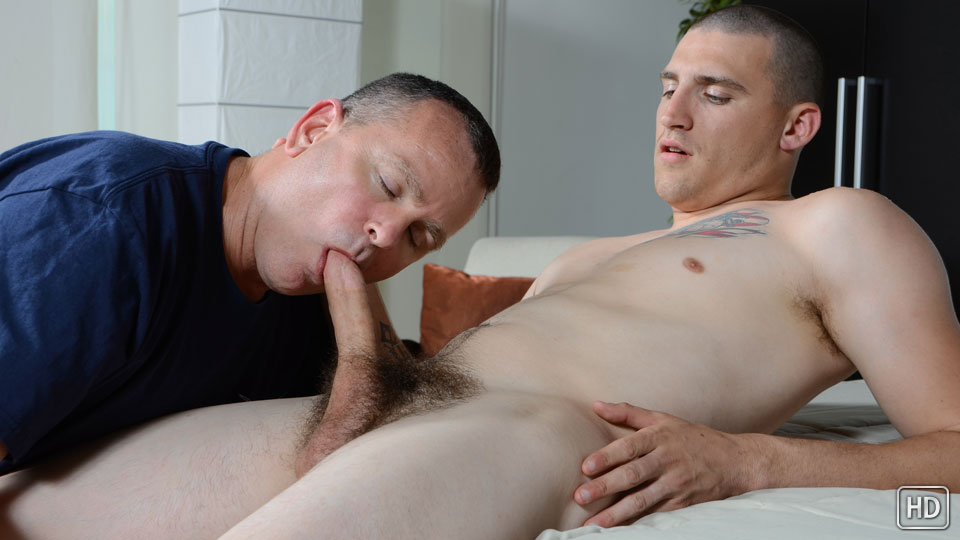 Watch the full scene:
Join Now!
Last time Ty came by, I gave the 20-year old Marine a massage and couldn't resist tasting his cock. This time, he agreed to skip the massage altogether and get straight to the main event. Yeah, I know, I'm a lucky guy.
The first thing I did was get on my knees and reach under Ty's gym shorts to feel the stiffening dick inside. By the time I pulled it out, it was already hard and begging to be sucked. I wrapped my lips around it, licking his shaft and his balls. I ran my hands along his smooth chest, feeling every inch of his lean 6'1 body. I even decided to get ambitious and deep throat him.
I wasn't expecting it, but I got a little bonus prize when Ty spread his legs and let me taste his hairy hole. It tasted damn good, and with my spit lubing it up, I took the opportunity to slip a finger in there as well, making Ty moan aloud.
His ass was so damn perfect that I turned him around on all fours with his butt up in the air so I could really go to town. His cock got stiffer the more I probed his hole, so he very clearly liked it.
Ty stood up and I worked on his dick some more before lying him down for the big finish. I wanted to build up a big load, so I went back into his ass with my finger. I could feel his cock throb as I pushed onto his prostate with my finger.
My efforts paid off because Ty's load was massive: an eruption of cum all over his stomach and chest. And yeah, I tasted that too. Like I said, I'm a lucky guy.
Tags: Oral