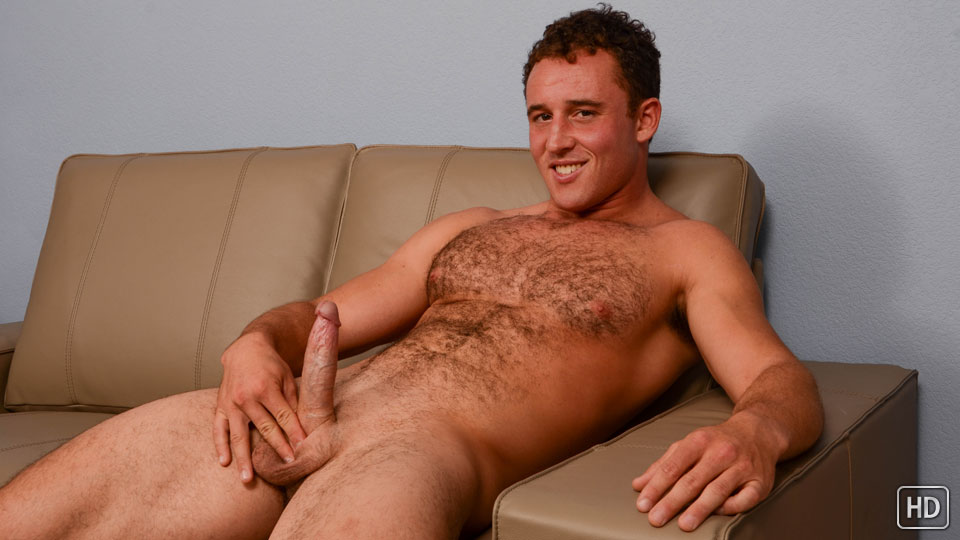 Watch the full scene:
Join Now!
Gary came out to California for work and a change of scenery from the east coast. He's 27 y/o and one furry, beefy dude. He played football and wrestled through school and recently got into powerlifting.
Since finding his way to San Diego he thought he'd give porn a shot which is around the time our paths crossed. Like most of the str8 guys, he wanted to dive into doing shoots with girls right out of the gate, but with some convincing he dropped his clothes to rub one out by himself first to get his feet wet.
Not that Gary wasn't a little nervous about things and was very inquisitive, asking all kinds of questions about how the process works. When the cameras started rolling, though, he was amply prepared to show off his stuff. (Despite me telling him not to, Gary decided to do "a little trimming" of his pubes the day before his shoot. Yes, I know... he went a little overboard with the clippers.)
Gary definitely seemed to get into things once he knew his dick was going to cooperate in front of the camera, and in front of a guy for the first time (one of the things he was nervous about). He stopped stroking a couple times to strike a pose and show off how much his cock was throbbing.
Usually, when Gary jerks off at home he does it in the shower, so he wanted to stand up for his grand finale. Luckily, he did take my advice and saved up for a couple days. As he brought himself up the edge, Gary looked like he was going to buckle over from the intensity just as he let loose gobs of cum that spattered the couch.