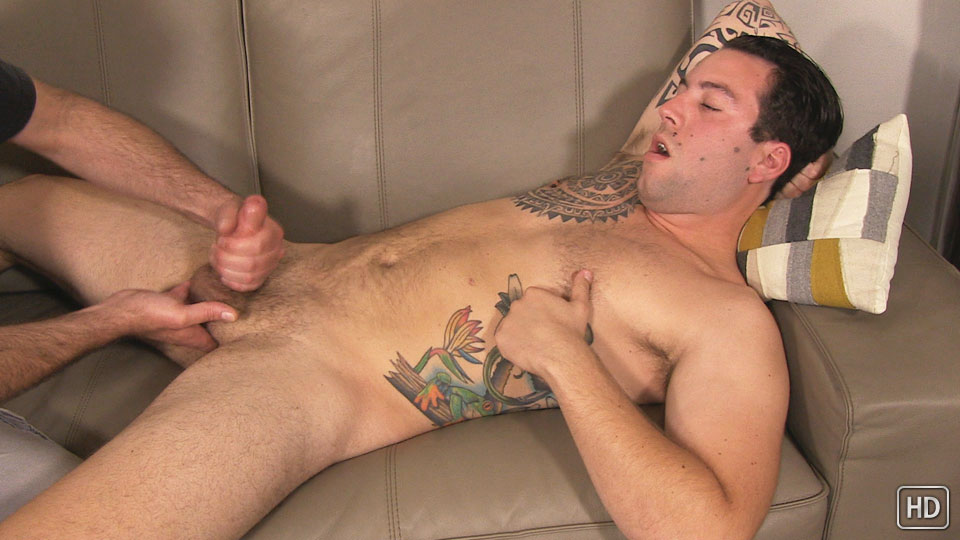 Watch the full scene:
Join Now!
Jerry had been thinking about doing porn since he'd heard about "a guy in San Diego" from some of Marine buddies about 5 years ago. We never could figure out if some of his friends were former models on this site or not, but now 25 y/o and out of the military, Jerry decided to take the leap and get in touch.
He sent a couple nervous texts the day before his shoot, asking what would happen if he couldn't get hard. It turned out to not be a problem at all. As we started shooting some photos I could already see a bulge growing behind his jeans. By the time he pulled his dick out he was rock hard and leaking pre-cum.
Jerry was a soccer player growing up. It left him with some thick legs and a bubble butt that he said he gets comments on all the time. And he wasn't shy about bending over to show off his hairy ass cheeks and hole.
I'd told him to save up ahead of the shoot. Jerry, who usually jerks off 2-3 times a day, said he was struggling after a couple days. It was a great combo of a super horned up guy who was really getting into showing off for the cameras. How could I *not* cop a feel? Out came the ol' measuring tape.
Jerry seemed curious to see how thick his dick was after getting comments from girls about it. It is a hefty one at 6 inches around. When I gave him an extra couple strokes, you'll have to catch Jerry's face go from surprise to, "Oh, fuck, that feels good" in about 2 seconds.
The fact that his cock was getting even stiffer in my hands seemed to be the go-ahead to finish him off. And the build-up is not to missed. Jerry splattered cum onto his stomach while writhing in ecstasy.
Make sure to stick around after. I left a minute or so of Jerry's out-of-breath reaction once he'd thought the cameras were off. (wink)
Tags: Helping Hand, Hairy, Stocky/Husky