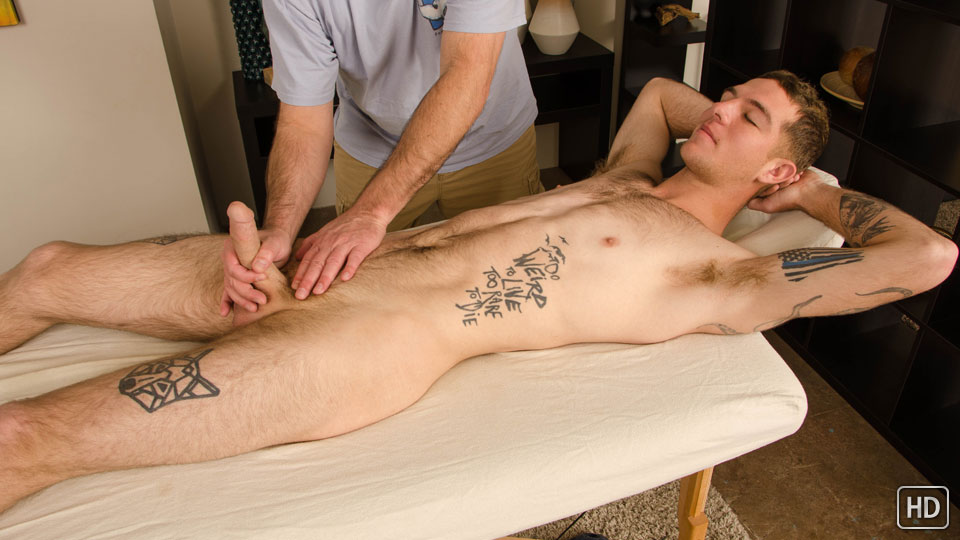 Watch the full scene:
Join Now!
Slater is no stranger to getting happy-ending massages. He got his first one when he went to a massage parlor without any idea that the "happy" part was going to happen. Since then, he's gone back for several more on both sides of the Pacific Ocean while on deployments. So many that, he said, "I've lost count."
When I hit him up about coming back for a rub down on camera, he was all for it. Even though it was getting his first from another guy this time, he admitted that it was something different that he seemed pretty excited about trying.
"Hey," he said with a laugh,"a hand is a hand."
After five days of not cumming, it wasn't much of a surprise to see Slater's cock getting hard from between his legs when he was laying face down on the table. Once he rolled over onto his back, it was throbbing in my hands.
Slater got himself relaxed, pulling his arms back to prop his head up; perfect to kick back and enjoy the ride. The slightest ramp up in stroking got him up to the edge. His hips pushed slightly forward and with a few deep breaths and a whisper that he was about to cum, left a pool of jizz on his pubes.