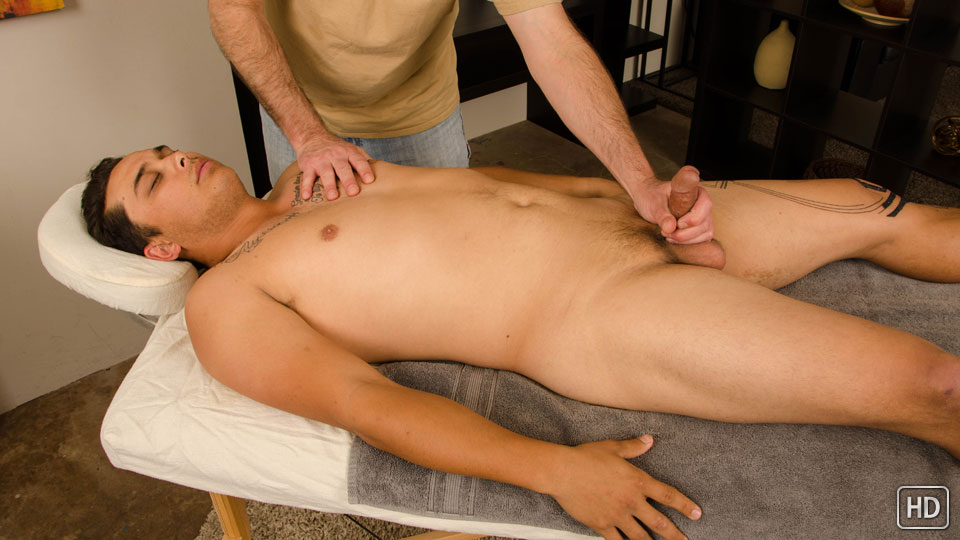 Watch the full scene:
Join Now!
Allan wasn't sure what to think at first when I hit him up about coming back for a happy-ending massage shoot. But eventually he figured the money was worth pushing himself a little out of his comfort zone.
"I went home and kinda thought about it," he said, "and then a week later I was like, 'Alright, I'm gonna do it.'"
This was going to be a double-bucket-list-checkbox experience for Allan. The only other massage he'd ever gotten was from an athletic trainer which he described as "rough and painful." So, first happy-ending massage and definitely his first time ever doing anything sexual with another guy.
He'd been saving up for a few days and was extra horny. Whether it was that or just getting an erotic rub down that only another guy would know how to do, Allan's cock was rock hard even while laying face down on the massage table. That butt of his was certainly a treat to pay some special attention to.
Rolling over onto his back, Allan's dick was like it had a hair trigger. After almost cumming too soon, I let his raging boner relax for a minute and then (being the nice guy that I am) gave his cock a few sucks to get him hard again. That led to a second close call.
Probably needless to say, it didn't take much to push Allan up to the finish line. I teased and edged him as long as I could before barely picking up the pace of stroking him. Within seconds, he took a deep breath and let me know he was about to cum. Allan's body convulsed as the thick load shot out and dripped down the side of my hand.