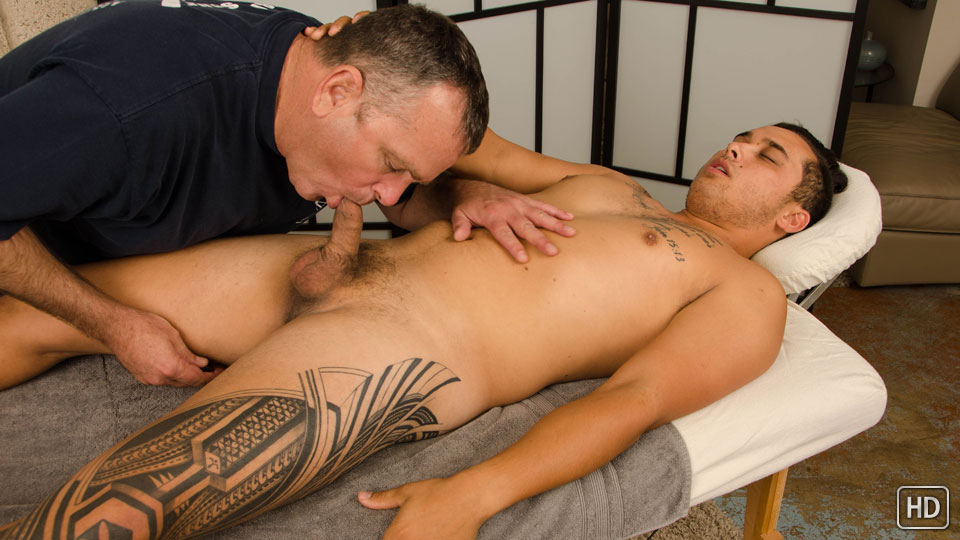 Watch the full scene:
Join Now!
Six months had gone by since I'd heard from Allan. And it's not uncommon for guys to suddenly come out of the woodwork around the holidays looking for some extra cash.
That seemed to be the case with Allan, but something told me that money wasn't the only factor when he asked about coming back to shoot another massage scene. The give-away was what he asked after we'd agreed on a time to meet up.
"Think you could blow me on the massage table instead of a hand-job?"
If you saw Allan's BJ video, he really got into in. And after taking the leap last time, it appeared that he was yet another sold customer about how us guys really know what we're doing when it comes to sucking dick.
With three days of cum stored up, it wasn't long after he lay on the table that Allan's cock was standing at attention. When I wrapped my lips around it, his mouth fell open with an audible gasp.
As he got closer to unloading his wad, Allan reached down to grab the back of my head and thrust his hips toward my mouth. Within seconds his breathing deepened and gasped that he was about to cum. I barely pulled off before the creamy load was pulsing from the tip of his cock.