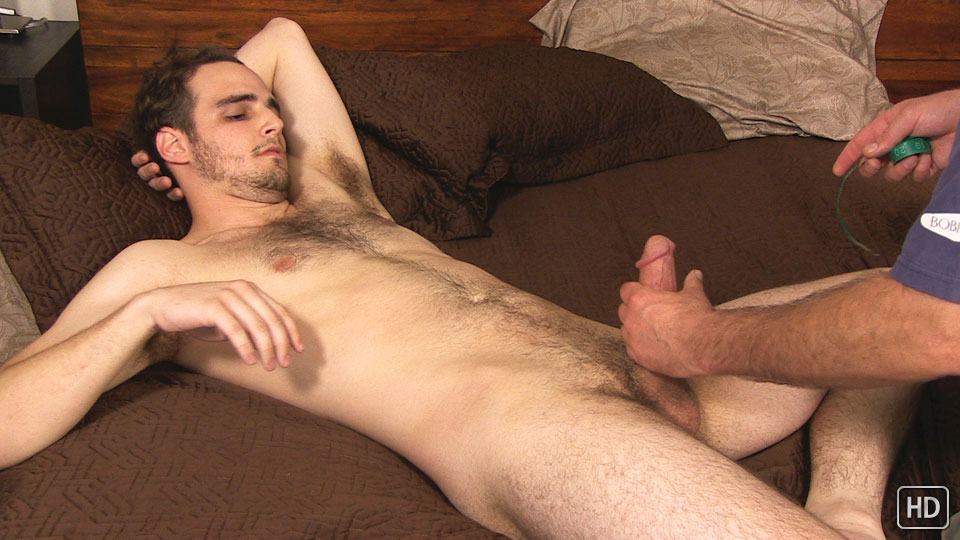 Watch the full scene:
Join Now!
Christoph is a 22 y/o str8 guy who I hit up online about doing porn. Seeming to have a try-anything-once personality, he figured, "Why not?" and sent in an application. Not even an hour later we were on the phone setting up a shoot.
When he showed up two days later, he had all kinds of questions, but was chomping at the bit to get started. It turned out he had been saving up the past couple days and was ready to bust a nut ASAP.
As he started peeling off his clothes for the photos, he mentioned that he wasn't too nervous being naked. Years playing water polo and being naked with his teammates in the locker-room, he said, made it easy.
When he pulled out his flaccid cock, he looked down at it sheepishly, "Don't worry. I'm a grow-er and not a show-er."
I'd heard that one dozens of times. But in Christoph's case, boy, was he right: it grew to 8" x 6" once he was hard, from what looked like a pretty average-sized dick when it was soft.
Christoph had to wear glasses in order to see the porn playing in the background for the photos, so for the video shoot he had to just go into the depths of his head and fantasize. That, and the fact the he was already so horned up, turned out to have an awesome effect! The tension was through the roof and he actually had to stop himself several times from cumming too soon. Listen carefully as he whispers a couple times, "You like that big cock?" There was so much of that kind of thing that I ended up leaving a lot of the video basically unedited.
As we were nearing the end, I just couldn't help but bring out the official measuring tape. Christoph wanted to be extra hard for the measurement. Of course, that meant he was also extra close to the edge. It barely took a firm grab of his cock before he was writhing on the bed and thrusting his hips into my waiting hand as the jizz dribbled onto his furry abs.
Tags: Helping Hand, Hung, Hairy