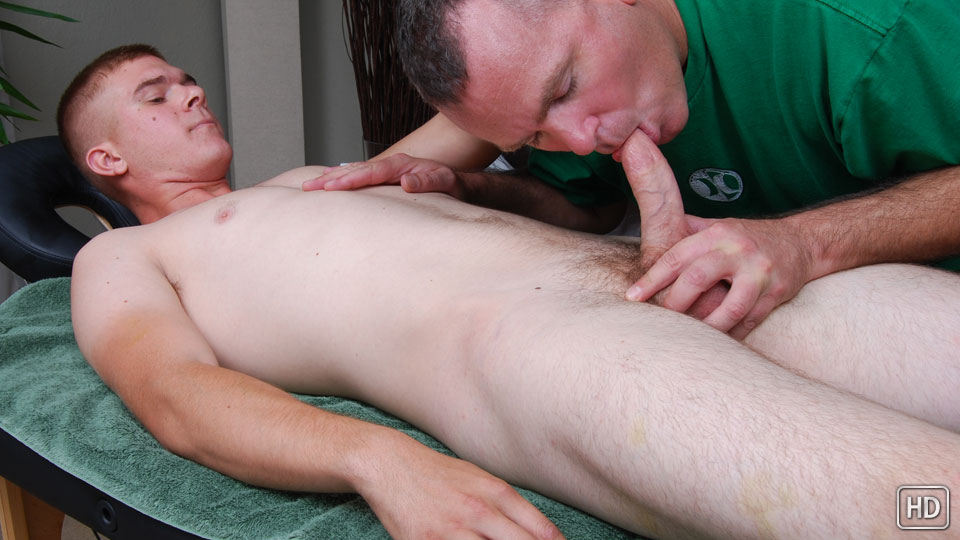 Watch the full scene:
Join Now!
Galen certainly has been making up for lost time since we met. You might remember that he had only lost his virginity a few months before making his porn debut, last time. Well, he's decided to take the next step and get his very first "happy ending" massage. And from a guy, no less.
To make things even more interesting, Galen took it upon himself to give up jacking off and had a 5-day load backed up in his balls! Needless to say, he was practically busting at the seams as soon as he undressed and started getting a rub down.
As I oiled up his back and moved down toward Galen's ass, I noticed that his dick was already hard and throbbing. I pulled it between his legs and spread his cheeks to rub his tight hole. That only made Galen's cock grow harder.
He flipped over for some attention to his front side. I just barely glazed his shaft when a bead of pre-cum glistened on the tip of his cock. I leaned down to lick it off and Galen's mouth gaped open at the sensation of it. I could tell that he was going to bust at any second, so I took things very slow.
I teased his dick with my mouth, trying to keep Galen on the edge as long as possible. As I slid a finger between his legs to massage his ass while blowing him, that was the tipping point. Galen let out a quiet grunt, letting me know he was about to cum. I just barely pulled off in time. Streams of jizz shot out and landed 5 feet off the side of the table and even more kept coming, leaving his stomach covered in a pool of cum!
Tags: Oral, Big Cumshot, Blond, Massage