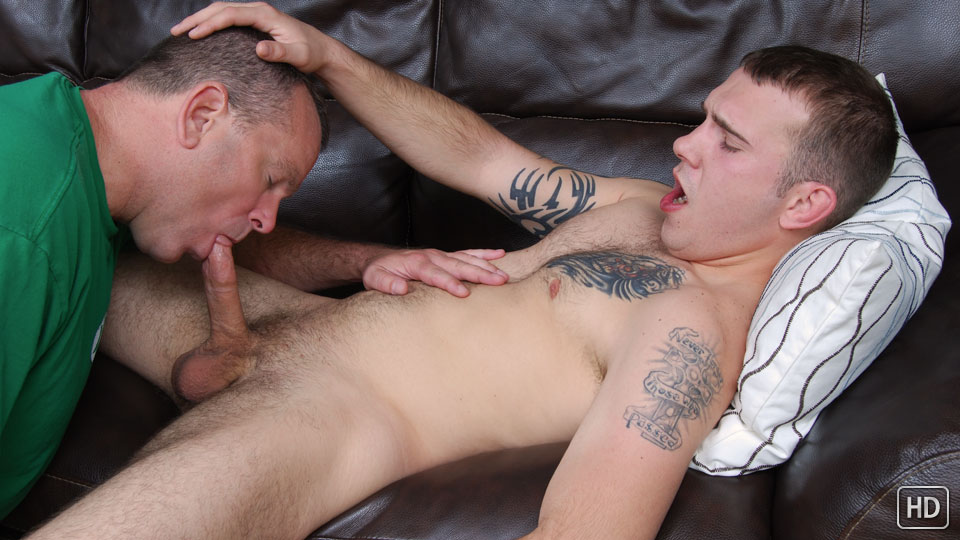 Watch the full scene:
Join Now!
Cody is back! I'm not sure if it was the taste of his first bj from a guy last time, or the wad of cash I offered him, but apparently it was good enough to return for a 2nd round. I didn't even bother to ask if his fiancé knew about his further delve into the gay-for-pay porn world.
Cody showed up still a little edgy about things. As they say, though, hard cocks don't lie and he was 100% charged up and ready for action as soon as the zipper came down on his shorts.
As I got to work, Cody's mouth dropped open as his throbbing cock started getting sucked. His eyes quickly drifted away from the porn DVD playing in the background and focused on the real life blowjob he was getting right in front of him.
I spread Cody's legs to give his tight hole a rub. That sent a shiver through his body, so I had him get up on his knees to give his virgin ass a taste. The look on his face made it pretty clear that this was a new experience for him. And one he liked!
Cody stood up and that's when the real fun started. He grabbed the back of my head, fucking my mouth and testing the limits of my gag reflex. Cody had a subtle proud smile as he shoved his cock deeper down my throat, pushing my head even further down the shaft.
He lay back on the couch and as I worked to bring Cody closer to cumming, the intensity on his face was incredible. He let out a quiet moan letting me know he was on the edge just before unloading onto his stomach and down the side of my hand.