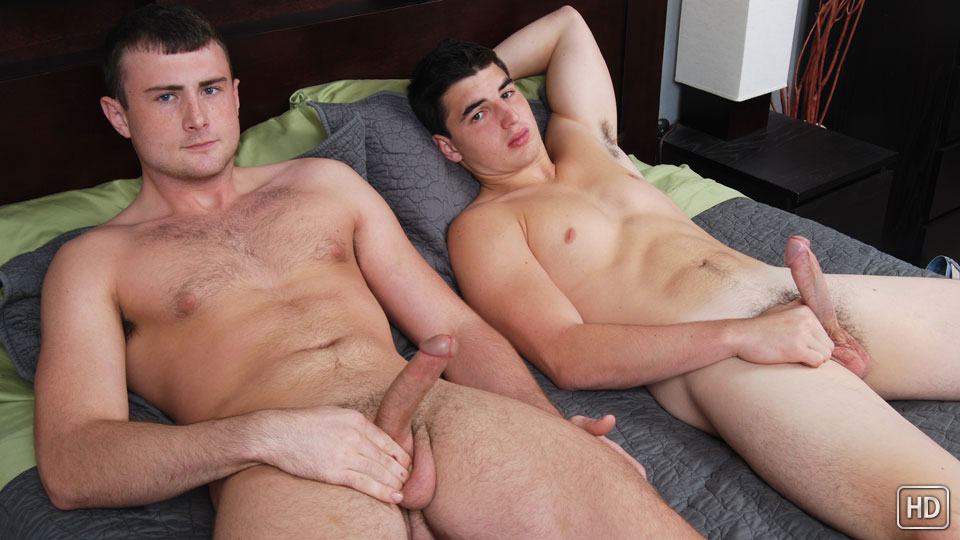 Watch the full scene:
Join Now!
It's been a while since a side-by-side jerk-off has shown up on the site. Too long. When I asked Brody and Chance about doing one, they seemed a little hesitant at first, but decided to go for it after giving it some thought, along with being offered some extra cash incentive.
It turned out that the guys had never even tag-teamed a girl with a buddy before, let alone whack off next to another guy. I asked how they were feeling about the new experience. With a little chuckle, Chance simply replied, "There's a first time for everything."
Chance's cock was hard as soon as he started stroking it. Brody's dick took a minute, but in the mean time he kept sneaking peeks over at Chance's rock hard shaft and sizing himself up. Chance caught on to that and started checking out Brody as he was working himself up to a hard-on.
Both of the guys have great asses so I had them flip over onto all fours to show them off. Brody's is lightly dusted with hair; Chance's is perfectly smooth with a hairy crack. I have a feeling neither thought they'd ever be in this situation-- naked on the bed with another guy, ass up in the air.
The guys turned back around and got the go-ahead to bust a load. Brody was jacking frantically and was covered in sweat. He asked Chance if he was getting close and before long dumped dollops of cum onto the bed while his whole body went into twitches.
Chance lay back on the bed and started stroking faster. "You want me to shoot it on myself?" he asked with a gasp. Even Brody was intrigued by the intensity and watched curiously as Chance gasped one more time, "About to cum..." and spilled a huge pool of jizz onto his stomach.